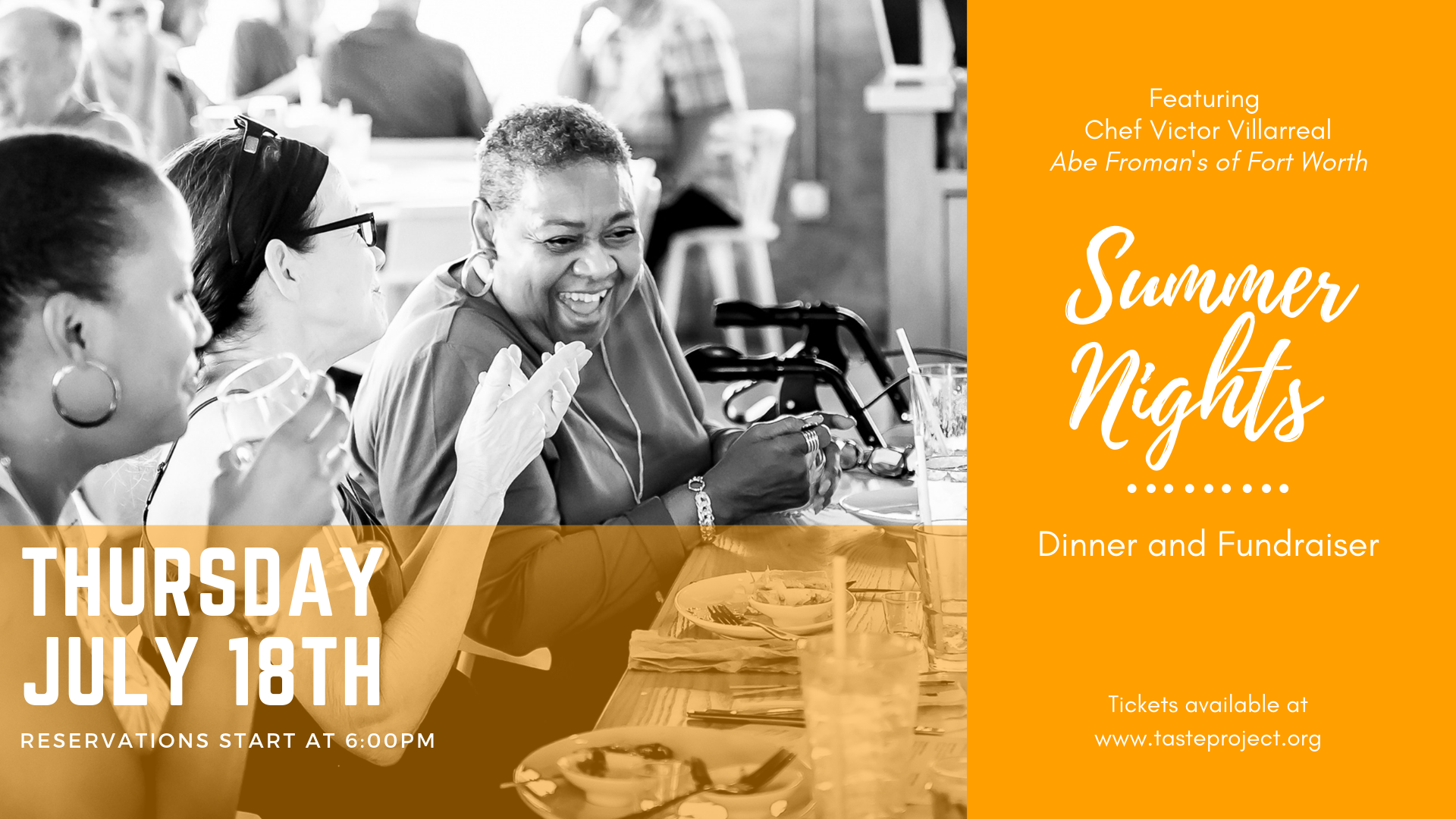 Join us for our second annual Summer Nights Dinner and Fundraiser series.  Participants will enjoy a local chef prepared menu, donated by each chef, with proceeds benefiting Taste Project and Taste Community Restaurant.  This year's chefs include Chefs Hao Tran and Dixya Bhattarai; Chef Victor Villarreal; and Chef Joshua Harmon.
On Thursday, July 18th, we are featuring local Chef Victor Villarreal. Victor has worked in some of Fort Worth's best kitchens. And he now owns and runs Abe Froman's of Fort Worth. Victor will be cooking a special menu all served by our fabulous team of volunteers.
All sales benefit Taste Project and the operation of Taste Community Restaurant. Taste Project is a 501(c)3 non-profit established to feed, educate, and serve our community so they may "…taste and see the Lord is good." Psalm 34:8. Learn more about our mission and vision at www.tasteproject.org.
Reservations available between 6:00pm and 7:30pm. Tickets must be purchased in advance. This event is BYOB.
About Chef Victor Villareal
Fort Worth Magazine sums him up best…
Fort Worth chef Victor Villarreal has cooked in some of North Texas' top kitchens — Grace, The Rosewood Mansion on Turtle Creek, Clay Pigeon, to name a few — but most often in a supporting role. He was a line cook here, a sous-chef there. Always second in command, seldom the one out front. Victor sums up his passion for food in Fort Worth Magazine…
"Like a lot of chefs, I'm drawn to foods I ate growing up. My family wound up in England when I was about 17. My dad was in the military, so we moved around a lot. Every day I would walk to school and eat at this bakery. I can't remember the name of it, but I'd get a glass of milk and two sausage pies every single day. It was the best sausage I'd ever had, to this day even. And that has stuck with me all this time, and I knew, at some point or another, I would wind up basing a menu on it."
Victor Villareal is the 'Sausage King of Fort Worth' and owns and runs Abe Froman in the Food Hall on Crocket Row.