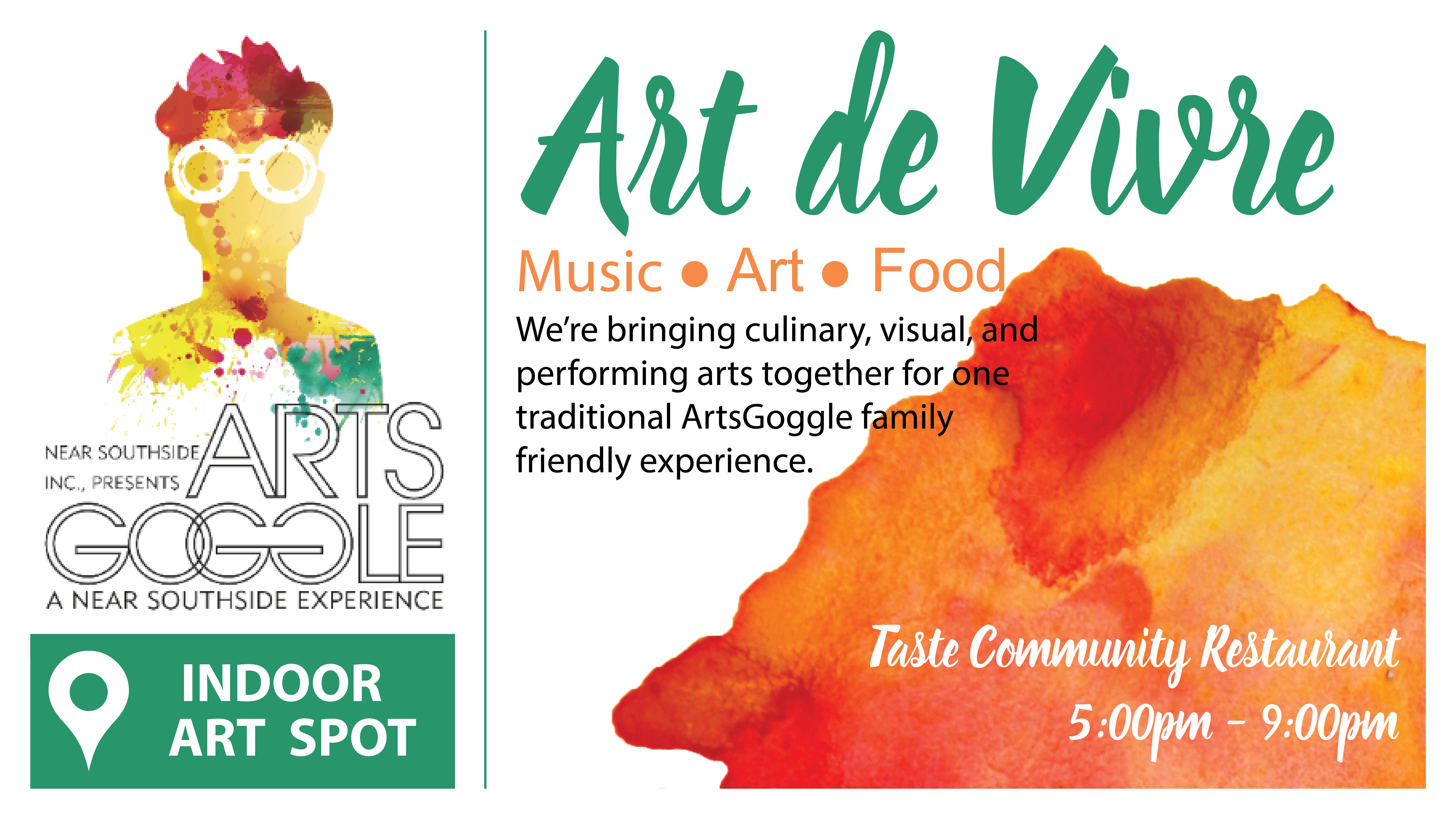 Art de Vivre
@ Taste Community Restaurant
We're bringing culinary, visual, and performing arts together for one traditional ArtsGoggle family friendly experience.  Join us as Chef Jeff Williams and the team prepare a fresh menu of small bites served tapas style.  Sit back and enjoy the music in a bright and warm atmosphere.  And check out work from local photographer Ross Reitzammer.
Come and go.  BYOB.  Street parking available.  Or, park at Broadway Baptist Church and take the ArtsGoggle trolley.
Reservations are not required but encouraged.  Reserve your table now.
FEATURING:
Ross Reitzammer
Initially a student of art and music, Ross found his professional creative interests move into the field of technology.  After majoring in music at NTSU (currently known as UNT), Ross went on to writing business software in the 1980s and continued software development until the 2000s.  With the introduction of the internet, web design brought a whole new canvas to explore.   Web applications were born, and with it, creative design invaded the conventional business software development model.  Graphic design became an integral component of creating compelling web applications.  Ross began using photography and art as mediums for designing interactive web-based business solutions.  Today, Ross has come full circle and has returned to exploring his creativity by combining photography, pen and ink, watercolor and other digital art forms for making unique visual art.
ABOUT ARTSGOGGLE:
Since its inception in 2003, ArtsGoggle has become Fort Worth's premier festival of local arts.  The event is hosted in the Near Southside, an eclectic neighborhood of historic elegance and urbanism immediately south of the central business district of Fort Worth. This free to the public, family-friendly event attracts a crowd of 50,000+ that are as diverse as the neighborhood itself.  Residents from the nearby Fairmount, Mistletoe Heights, Berkeley Place, Historic Southside and Ryan Place neighborhoods are joined by medical district workers and visitors from throughout the region. Offering live music, artistic displays of every kind, food, drink, and fun for everyone ArtsGoggle is a wonderfully pleasant testament to the community spirit that fills the Near Southside.
ArtsGoggle is unlike any event in Fort Worth, as it exclusively focuses on highlighting the work of local artists, musicians and performers of all mediums and experience levels.  ArtsGoggle prides itself in hosting a casual, approachable and vibrant environment to appreciate art and learn about the talents within our own community.  For more than a decade, ArtsGoggle has been the launch pad for many artists showing their work for the first time. ArtsGoggle provides a supportive setting for both aspiring and professional visual artists, to display, sell and seek comment on their artwork.
Embracing all arts, the event also boasts an impressive program of performance art and music.  The 2017 ArtsGoggle featured more than 50 bands, many of which have members who live or work in the Near Southside.  The entertainment at ArtsGoggle is diverse and showcases music from a variety of cultures and styles. The event partners with arts organizations across Fort Worth to draw attention to their programs. In years past ArtsGoggle has hosted the Fort Worth Opera for pop-up concerts; showcased Ballet Folklorico de Azteca for a colorful dance performance; and hosted The Bucket List Jazz Band, a band dedicated to the lifelong dream of 90-year-old Jim Milam to resurrect Dixieland Jazz.