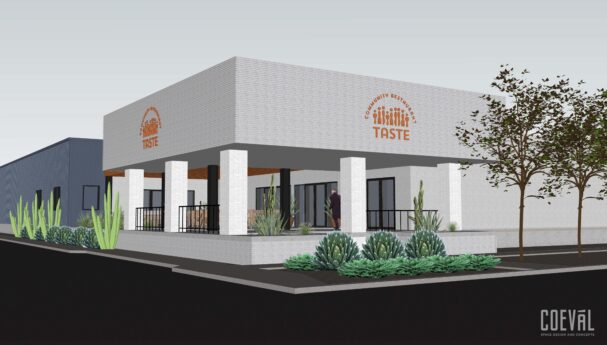 Taste Project and the City of Arlington are partnering to bring the nonprofit's pay-what-you-can community restaurant concept to the heart of Downtown Arlington.
Taste Project, an organization designed to help feed, educate and serve Tarrant County's food insecure residents, has served more than 125,000 diners since its initial Taste Community Restaurant opened in Fort Worth in 2017. The nonprofit is now working to open a second Taste Community Restaurant on Cooper Street, just north of The University of Texas at Arlington, by early 2024.
Like in Fort Worth, the future Arlington restaurant will have no listed menu prices for its healthy, high-quality meals, which are made from local seasonal ingredients. Instead, diners are asked to pay what they can afford, pay what they would typically pay, or pay what they would typically pay plus a little extra to help a neighbor in need. Additionally, Taste Project will offer its farm and garden program and its culinary job training programs that will provide paid work experience for low-income adults and adults with barriers to employment.
"I have always known God's plans for Taste Project are bigger than Fort Worth," said Jeff Williams, founder and executive director of Taste Project.  "We could not have asked for a more perfect partner than the City of Arlington to feed, educate, and serve even more people in our community."
On Aug. 2, the Arlington City Council approved a 10-year lease agreement, with two five-year options to renew, with Taste Project for the restaurant location. The nonprofit plans to renovate the building, formerly used by the Water Utilities Department and the Arlington Public Library, into a 100-plus seat full-service restaurant that includes a production kitchen, culinary classroom and headquarter office. The partnership will also add one of Yelp's Top 100 Best Places to Eat in the US to Arlington's growing list of dining options in Downtown.
"We are excited to partner with Taste Project to ensure good food for everyone," said Mayor Jim Ross.  "The organization's unique approach to helping those in need, while building community, makes it a great fit for the City of Arlington."
Regulars who dine at the Taste Community Restaurant in Fort Worth say they appreciate the nonprofit's inviting atmosphere and healthy, affordable dishes.
"Eating at Taste Community Restaurant is one of the highlights of my week," said Monette, a regular guest at Taste Community Restaurant in Fort Worth.  "I never have to worry if my budget is short that week. I am very appreciative and grateful for the service and the menu provided by the wonderful staff."
Eric, also a regular at the Fort Worth location, agreed. "I've been unemployed since the pandemic started, but I'm able to eat here and have great service without feeling guilty."
Addressing food insecurity for Arlington residents is a top priority as well. According to the 2020-2024 HUD Consolidated Plan for the City of Arlington, low and moderate-income individuals and households typically do not have regular access to healthy food because they lack adequate transportation and affordable healthy food choices.
The future Arlington restaurant, which Taste Project said will bring affordable healthy food choices where they are needed most, is located within walking distance of UTA, Texas Health Arlington Memorial Hospital, and numerous Downtown homes and businesses. The location is also easily accessible through Arlington's affordable citywide on-demand public transportation service, Via Rideshare.
Additionally, Taste Project offers culinary training programs where its graduates receive job placement at $15 an hour on average. According to the Department of Labor, entry level foodservice positions, typically in fast food, start between minimum wage and $11 per hour. But adults with certified training can obtain living wage positions in full-service and fine dining restaurants, and production kitchens—which is an expanding marketplace and a growing need for Arlington businesses, Taste Project leaders say.
Taste Project received a $100,000 lead gift from the Amon G. Carter Foundation to begin transforming the industrial building into a 3,000-square-foot restaurant and 1,500-square-foot production kitchen. Project costs are estimated between $1.2 million and $1.5 million.
"The Carter Foundation remains aware of the significant issue in regard to food insecurity and commends Taste Project's commitment to feeding, educating, and serving Tarrant County residents," says John Robinson, executive vice president at the Amon G. Carter Foundation.  "Based on Taste Project's success at its Fort Worth location, we applaud the organization's achievement in securing a significant commitment from the City of Arlington."
Taste Project enlisted Coeval Studio based in Dallas to design and layout the building renovations for its 200 N. Cooper Street location. Lead designers Miguel Vicens and Joh Paul Valverde completed the design work for Taste Project's Fort Worth location and the duo will look to create the same warm and inviting atmosphere in Arlington.
Find out more information at www.tasteproject.org/arlington.  

About Taste Project
Taste Project is a 501(c)3 non-profit established to feed, educate, and serve our community so they may "…taste and see the Lord is good." Psalm 34:8. We believe everyone should have access to healthy nutritional food. Our vision is to see our community become the solution to the challenges our community faces as it relates to hunger.  Our first project, Taste Community Restaurant at 1200 South Main Street in Fort Worth, focuses on healthy, quality meals made from fresh ingredients. Our menu has no prices. This is a give-and-take concept. We ask guests to do one of the following: 1) pay what you can afford, 2) pay what you would typically pay, or 3) pay what you would typically pay, plus a little extra.  In 2024, Taste Project will open its second Taste Community Restaurant location at 200 N. Cooper St. in Arlington.  To learn more, visit us at www.tasteproject.org or find us on Facebook, Instagram, or Twitter.