Are Y'all Ready to See Your Fixer Upper?
Near Southside, welcome to your new home.
We picked the worst building in the best neighborhood and we're turning it into a place everyone can call home.
My husband is a chef and had crazy big vision to feed people.  When he first told me his idea, I thought he was just thinking about hosting a dinner party for some people in need.  But his vision for Taste Project was so much bigger!
Taste Project invites our community to taste and see. We are a community solution where people in need can meet people who want to help; all with dignity, love and respect.  Our initial project is a pay-what-you-can full service restaurant.  Once open, patrons can:
1) pay what they can afford including enjoying a free meal,
2) pay what they would typically pay at a restaurant in the area, or
3) pay more than they would typically pay to cover a neighbor's meal.
Those in need and those wanting to help are not segregated and instead create an environment that is approachable and refreshing.
We secured a location at 1200 South Main Street, just a couple steps from West Magnolia.  It was most recently used by a printer, and likely used by several businesses before that.  The earliest known date of construction is 1920.  We have completed demolition of the building addition to meet current building codes.  We have installed a new roof, and secured final permits for the interior finish work.  But after several construction projects I found myself wondering, do I have what it takes for this fixer upper?
Have you ever felt overwhelmed by a home project?  For me, this felt like a home project on steroids!
Just like the television show, I feel like there are three distinct stages of every Fixer Upper.  In the first stage, you are completely overwhelmed at the project and there's always one extra unforeseen problem that comes with an additional cost.  Second, you start to see some momentum with a couple of key projects under your belt; but the home remains completely hidden by dust and plastic tarps.  And lastly, there is the stage when Joanna makes it feel like home, often working into the night to ensure every detail is set.
We signed our lease in May of 2015 and construction started right away.  But, the roof took longer to complete than planned.  The windows cost more than we planned.  The permit process was more complicated than we thought.  …Oh, and then there was a port-a-potty that appeared on our doorstep?—the street improvements had begun and our address was ground zero.  After what felt like eternity, we still stood in front of a mound of work, rubbish, and broken tile and wood, completely covered in dust and dirt without knowing exactly what to do next.
We reached out to our community in the Near Southside and the community responded!  Volunteers came, rolled up their sleeves, and jumped into action.  The interior walls came down in a day.  Another team cleared the debris.  And a third team removed all the plaster from the walls showcasing the original brick from 1920.  It is amazing what a team can do.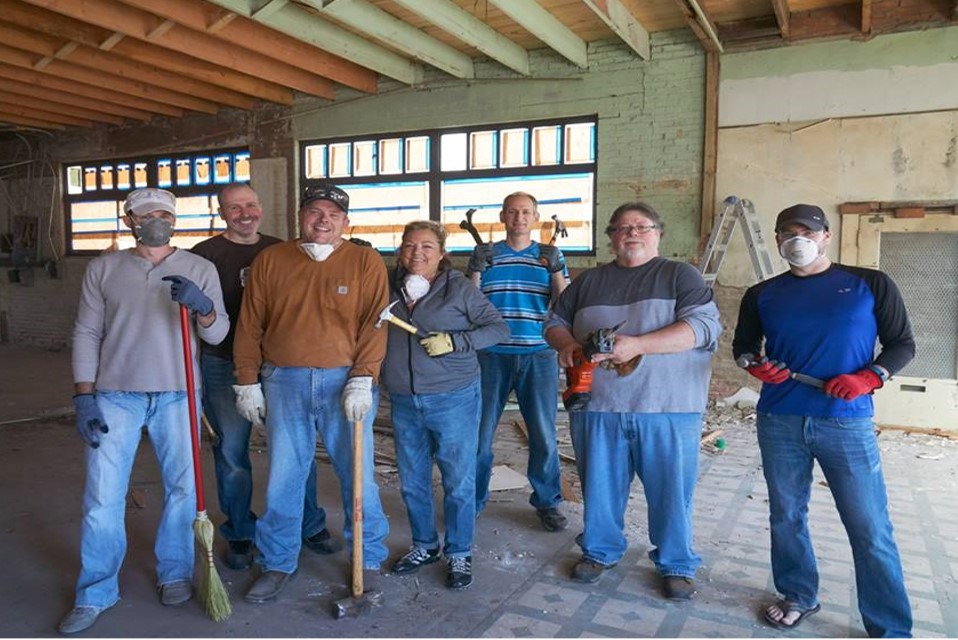 We have a few more projects before we can start transforming the building into a restaurant, but the reveal day is within sight!  Our design team has chosen flooring, lighting fixtures, tables, and chairs from traditional consumer retailers to create a feeling and atmosphere like your own home.  And one day this summer we will have a move-in party where we'll serve pizza and assemble furniture into the wee hours!
It's hard work, but work worth doing.  Throughout this project I am reminded of the similar struggles our neighbors in need face.  Many reach a point of despair with a mountain in front of them that feels completely overwhelming.  A simple meal served with dignity, love, and respect in an atmosphere of anonymity, can be the catalyst that changes someone's life.  And, then we all get Joanna's job of making sure everyone feels right at home.  Are y'all ready to see your fixer upper?
Come see the reveal, when Taste Community Restaurant opens on Tuesday, August 22nd.  Click here to add this event to your Facebook calendar.
Continue reading about who we are
Written by Julie Williams
Julie Williams is the wife of Taste Project founder, Jeff Williams.  She has volunteered with Taste Project since it's inception in 2012, and she frequently writes for Taste Project.
This article originally appeared in the Historic Fairmount Home Tour May Newsletter.  Click here to view.