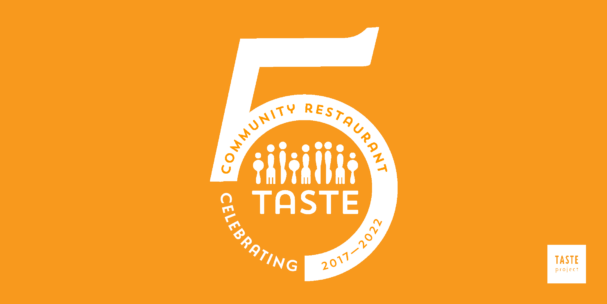 This month, we commemorate 5 years of service to our community. To celebrate, we are expanding our weekend brunch hours to serve even more people! Listed as one of Fort Worth's 2022 Best Brunch spots, Taste Community Restaurant will now open at 9:00am on Saturdays and Sundays to support the growing needs of our community.
On the surface, Taste Community Restaurant looks just like any other restaurant on Magnolia or South Main Street. The space is light, bright, and refreshing.  The food is fresh and healthy.  And the staff is amazing.  But the restaurant is like no other restaurant.
"We have a flawed business model, yet we have beaten the odds of most for-profit restaurants, and we've beat the statistics of most startup nonprofits," says Jeff Williams founder and executive director. "While we would love to take credit for this, it is nothing short of a miracle."
Our solution is a fresh and healthy pay-what-you-can restaurant where everyone in the community regardless of financial means can enjoy a healthy, high-quality meal, made from seasonal ingredients from the surrounding area. The menu has no prices. Guests are asked to:
Pay what you can afford;
Pay what you would typically pay; or
Pay what you would typically pay, plus a little extra to help a neighbor in need.
Taste Community Restaurant opened 5 years ago, in December 2017.  Since then, we have engaged 3,776 unique individuals to volunteer nearly 100,000 hours preparing over 43 tons of fresh produce while training 38 Culinary Apprentices to attain their American Culinary Federation Fundamental Cook Certifications, in order to feed nearly 150,000 people!
"This place exists to literally serve the community, and we should all eat [here]," says Kenneth La Cour, a restaurant guest. "It's pay-what-you-can model is a beautiful thing. All walks of life sitting together enjoying a well-prepared meal, ordered off a well-crafted seasonal menu that caters to all palates…"
You can celebrate this 5-year milestone with us as we launch our new Winter Menu at Taste Community Restaurant.  This season's menu is filled with popular selections from the past and soon-to-be favorites including Oatmeal Pancakes, Roasted Vegetable Salad, Bacon Burger, and Beef Stroganoff.
Taste Community Restaurant is open for breakfast and lunch on weekdays, and brunch on weekends.  Reservations are not required but recommended.  You can reserve a table online at www.tasteproject.org.
Taste Community Restaurant
1200 South Main Street
Fort Worth, Texas 76104
Open for Breakfast and Lunch: Tuesday – Friday (9:00am – 2:00pm)
Open for Brunch: Saturday and Sunday (9:00am – 2:00pm)
(Closed on Mondays)

About Taste Project
Taste Project is a 501(c)3 non-profit established to feed, educate, and serve our community so they may "…taste and see the Lord is good." Psalm 34:8. We believe everyone should have access to healthy nutritional food. Our vision is to see our community become the solution to the challenges our community faces as it relates to hunger.  Our first project, Taste Community Restaurant at 1200 South Main Street in Fort Worth, focuses on healthy, quality meals made from fresh ingredients. Our menu has no prices. This is a give-and-take concept. We ask guests to do one of the following: 1) pay what you can afford, 2) pay what you would typically pay, or 3) pay what you would typically pay, plus a little extra.  In 2024, Taste Project will open its second Taste Community Restaurant location at 200 N. Cooper St. in Arlington.  To learn more, visit us at www.tasteproject.org or find us on Facebook, Instagram, or Twitter.
###