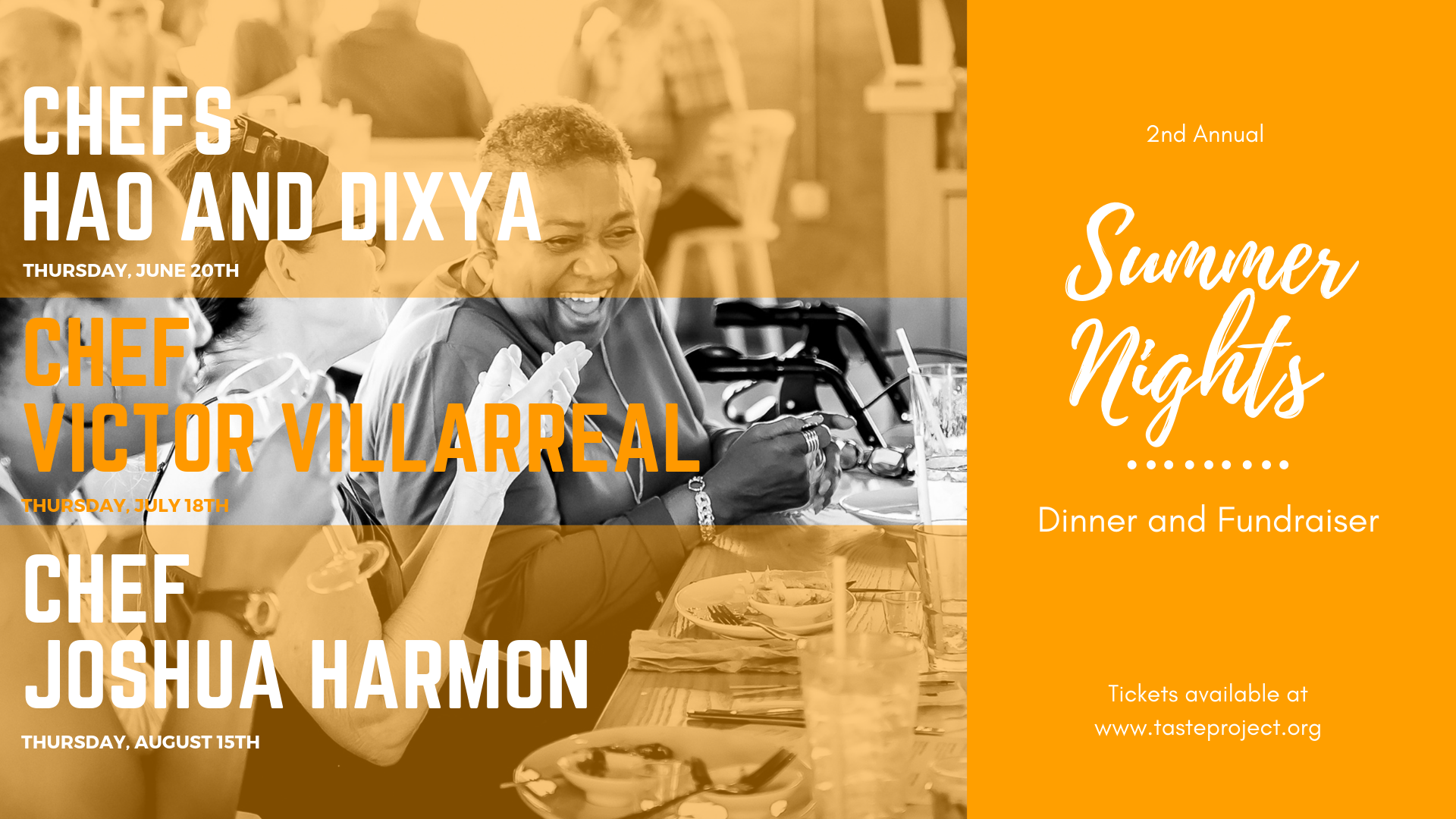 Taste Project announces today its second annual Summer Nights Dinner and Fundraiser series featuring several local Fort Worth chefs.  Fort Worth and surrounding residents are invited to join in the fun at each Summer Nights event.  Participants will enjoy a local chef prepared menu, donated by each chef, with proceeds benefiting Taste Project and Taste Community Restaurant.  This year's chefs include Chefs Hao Tran and Dixya Bhattarai; Chef Victor Villarreal; and Chef Joshua Harmon.
"We excited to see several Fort Worth breakout chefs stepping up to support the mission of Taste Project," says Jeff Williams, Taste Project Founder and Executive Director.  "We hope their efforts help us to raise funds and help ensure we can continue feeding and serving our community through our pay-what-you-can lunch and brunch services."
Join these chefs as they encourage you to get involved in your community through Taste Project:
On Thursday, June 20th, the dinner event will feature local breakout chefs Hao Tran and Dixya Bhattarai.  This dumpling duo will take you on a journey of food and life.
On Thursday, July 18th, the dinner event will feature local Chef Victor Villarreal. Victor has worked in some of Fort Worth's best kitchens. And he now owns and runs Abe Froman's of Fort Worth.
On Thursday, August 15th, the dinner event will feature local Chef Joshua Harmon. Josh has been a huge supporter of Taste Project and Taste Community Restaurant since its inception, and he hosted the organizations first fundraising dinner in 2012. Chef Josh returns sharing both his love for food and our community.
All sales benefit Taste Project and the operation of Taste Community Restaurant. Taste Project is a 501(c)3 non-profit established to feed, educate, and serve our community so they may "…taste and see the Lord is good." Psalm 34:8.
Taste Community Restaurant is the first project of the Taste Project organization designed to help feed, educate, and serve Tarrant County's food insecure population, a total of 16.6 percent of Tarrant County's overall community (Feeding America).
Taste's solution is a fresh and healthy pay-what-you-can restaurant where everyone in the community, regardless of financial means, can enjoy a healthy, high quality meal. The menu has no prices.  Guests are simply asked to:
Pay what you can afford;
Pay what you would typically pay; or
Pay what you would typically pay, plus a little extra to help a neighbor in need.
Ticket reservations available between 6:00pm and 7:30pm. Tickets must be purchased in advance.
All events are BYOB.
Thursday, June 20th (Chefs Hao and Dixya)
Thursday, July 18th (Chef Victor Villarreal)
Thursday, August 15th (Chef Joshua Harmon)
More about the Chefs
About Chefs Hao and Dixya
The Dallas Observer summed it up best…  Hao & Dixya is a partnership between Hao Tran and Dixya Bhattarai. Frustrated with the lack of dumpling places in Fort Worth, Tran and Bhattarai started doing pop-ups around Fort Worth. Now, in addition to pop-ups, they offer cooking classes and catering.
Tran grew up in the Vietnamese community in South Arlington. A teacher by profession, she was raised in the kitchen and learned to cook from her parents, who are Vietnamese immigrants.
Bhattarai, a registered dietitian who works full time at a hospital, is from Nepal and moved to the United States 10 years ago for college. She started the blog Food, Pleasure and Health when doing her dietetic internship to document what she learned, as well as share recipes.
About Chef Victor Villareal
Fort Worth Magazine sums him up best…  Fort Worth chef Victor Villarreal has cooked in some of North Texas' top kitchens — Grace, The Rosewood Mansion on Turtle Creek, Clay Pigeon, to name a few — but most often in a supporting role. He was a line cook here, a sous-chef there. Always second in command, seldom the one out front. Victor sums up his passion for food in Fort Worth Magazine…
"Like a lot of chefs, I'm drawn to foods I ate growing up. My family wound up in England when I was about 17. My dad was in the military, so we moved around a lot. Every day I would walk to school and eat at this bakery. I can't remember the name of it, but I'd get a glass of milk and two sausage pies every single day. It was the best sausage I'd ever had, to this day even. And that has stuck with me all this time, and I knew, at some point or another, I would wind up basing a menu on it."
Victor Villareal is the 'Sausage King of Fort Worth' and owns and runs Abe Froman in the Food Hall on Crocket Row.
About Chef Joshua Harmon
CultureMap says it best…  Born in Tennessee, Harmon has been exposed to a variety of cultures that have led to his "progressive American" cuisine. To earn his chops, he trained and staged at such New York restaurants as David Burkes' Townhouse, Buddhakan in the Chelsea Market, and Le Cirque. His history in Dallas includes stints at Grace in Fort Worth, Savor in Klyde Warren Park, FT33, Driftwood, the Milk & Honey Co. in Keller, and Main Street Bistro & Bakery in Grapevine.
Chef Josh Harmon is Eater's 2017 Chef of the Year. And he currently owns and runs the Bulter's Cabinet in Fort Worth.