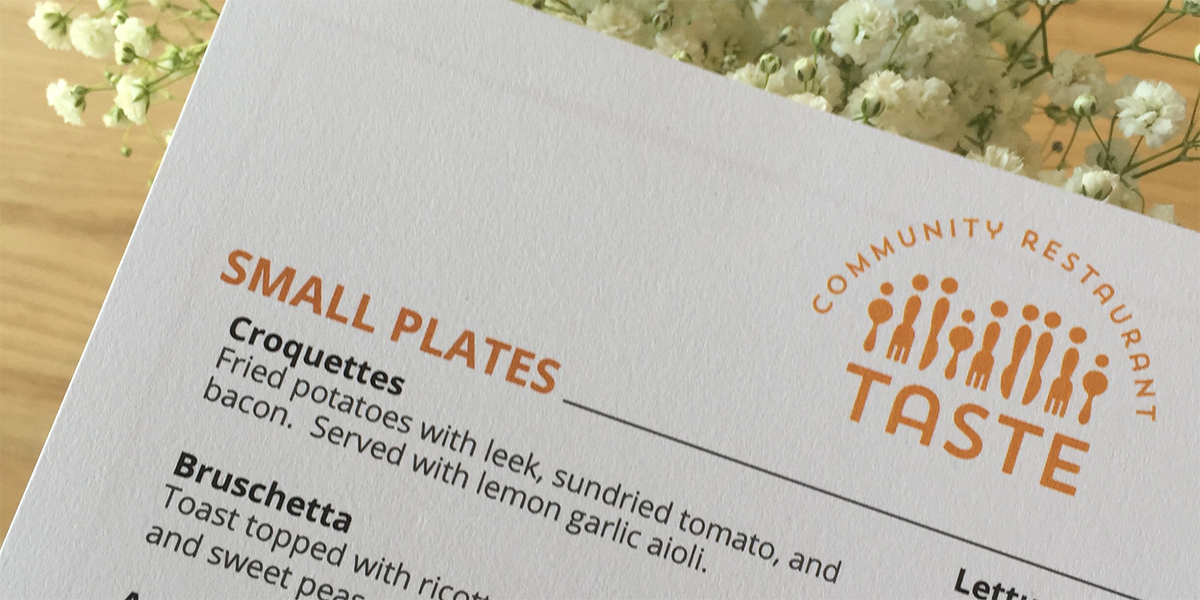 Fort Worth's newest nonprofit restaurant, Taste Community Restaurant, launches its Spring menu today.  Chef Jeff Williams and the team, consisting mostly of volunteers, encourage all Fort Worth residents to come taste and see a new approach to solving the issues of hunger in our community.
Taste's new menu includes spring items such as croquettes with leek, sundried tomato, and bacon; bruschetta made with ricotta cheese, avocado, and sweet peas.  Honey-soy chicken lettuce wraps.  And a house-cured bacon and green tomato sandwich.  But the menu still has many fan favorites including our Carrot Curry Soup, South American Arepas, and our Traditional Burger with Texas-beef, house-processed cheddar cheese, house-made pickles, and our Tasty Sauce all served on a bun baked on site.
Taste Community Restaurant is the first project of the Taste Project organization designed to help feed, educate, and serve Tarrant County's food insecure population, a total of 18.1 percent of Tarrant County's overall community.
Taste's solution is a fresh and healthy pay-what-you-can restaurant where everyone in the community, regardless of financial means, can enjoy a healthy, high quality meal, made from seasonal ingredients from the surrounding area. The menu has no prices. Patrons are simply asked to:
pay what you can afford;
pay what you would typically pay; or
pay what you would typically pay, plus a little extra to help a neighbor in need.
To-date, Taste Community Restaurant has served over 5,000 meals; some guests are in need, and others want to help.  "This place blew me away.  Great environment, great people, and even better food; all wrapped up and there for an amazing cause," said Trenton, a guest at Taste Community Restaurant.  Another guest, Bri, left a note that said, "…you've showed us that there are still good people in this world.  Thank you for being so nice to us and helping us get through another day without going hungry."
Fort Worth and surrounding area residents can come show support for the underlying issue of food insecurity in our community.  Enjoy a wonderful meal.  And meet some amazing people.  Lunch is served from 11am – 2pm, Tuesdays thru Sundays.
Taste Community Restaurant
1200 South Main Street
Fort Worth, Texas 76104
Open for Lunch: 11:00am – 2:00pm
Tuesdays – Sundays (Closed on Mondays)
About Taste Project
Taste Project is a 501(c)3 non-profit established to feed, educate, and serve our community so they may "…taste and see the Lord is good." Psalm 34:8.  We believe everyone should have access to healthy nutritional food. Our vision is to see our community become the solution to the challenges our community faces as it relates to hunger.  Our first project, Taste Community Restaurant at 1200 South Main Street in Fort Worth, focuses on healthy, quality meals made from fresh ingredients. Our menu has no prices. This is a give and take concept. We ask guests to do one of the following: 1) pay what you can afford, 2) pay what you would typically pay, or 3) pay what you would typically pay, plus a little extra.  To learn more, visit us at www.tasteproject.org or find us on Facebook.
###