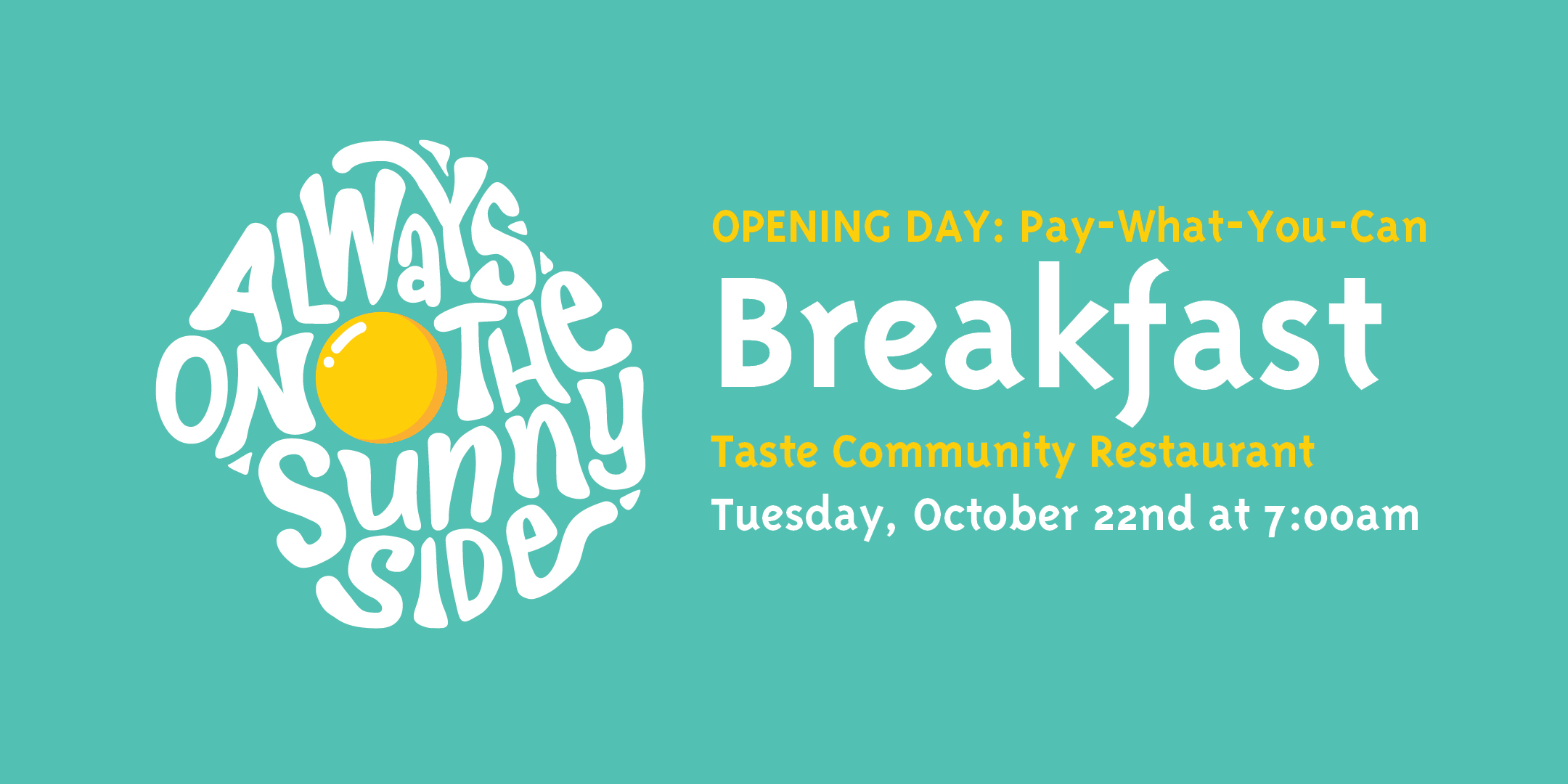 Fort Worth's nonprofit restaurant, Taste Community Restaurant, will now also be open for breakfast starting Tuesday, October 22, 2019!  Now you have no egg-scuses not to come and show your support for the underlying issue of food insecurity throughout Tarrant County.
Expansion comes as a result of the Tarrant County United Way's 2018 Kernel Award.  The award provides the initial seed money to support service expansion to include weekend brunch, which launched in April, and now weekday breakfast service.  "Currently, we are only open weekdays for lunch from 11:00am – 2:00pm which only utilizes a portion of our potential," says Taste Project Executive Director, Jeff Williams.  "Expanding our service hours will allow us to feed, educate, and serve more people in Tarrant county with our existing restaurant facility."
Taste Community Restaurant is the first project of the Taste Project organization designed to help feed, educate, and serve Tarrant County's food insecure population, a total of 16.6 percent of Tarrant County's overall community.
Taste's solution is a fresh and healthy pay-what-you-can restaurant where everyone in the community, regardless of financial means, can enjoy a healthy, high quality meal, made from seasonal ingredients from the surrounding area. The menu has no prices. Guests are simply asked to:
Pay what you can afford;
Pay what you would typically pay; or
Pay what you would typically pay, plus a little extra to help a neighbor in need.
"Every 5 star review here is TRUE. The food is excellent and the waitstaff is even better. I wasn't sure I was ready to really get all teary over my Huevos Rancheros and pour-over coffee," says Abbie, a restaurant guest and Yelper.  "This beautiful institution not only serves amazing dishes but brings dignity as well, to each human who enters, regardless of social status. No one is excluded. I can't wait to come back."
Fort Worth and surrounding area residents can enjoy a great meal while helping to build community at Taste Community Restaurant.  Breakfast will be served from 7:00am – 11:00am, Tuesday through Friday.
Taste Community Restaurant
1200 South Main Street
Fort Worth, Texas 76104
Open Tuesday – Sunday (Closed on Monday)
Breakfast and Lunch: Tuesday – Fridays: 7:00am – 2:00pm
Brunch: Saturday and Sunday: 10:00am – 2:00pm
About Taste Project
Taste Project is a 501(c)3 non-profit established to feed, educate, and serve our community so they may "…taste and see the Lord is good." Psalm 34:8.  We believe everyone should have access to healthy nutritional food. Our vision is to see our community heed the call to battle and stand on the front lines against hunger.  Our first project, Taste Community Restaurant at 1200 South Main Street in Fort Worth, focuses  on healthy, quality meals made from fresh ingredients. Our menu has no prices. This is a give and take concept. We ask guests to do one of the following: 1) pay what you can afford, 2) pay what you would typically pay, or 3) pay what you would typically pay, plus a little extra.  To learn more, visit us at www.tasteproject.org or find us on Facebook.
###