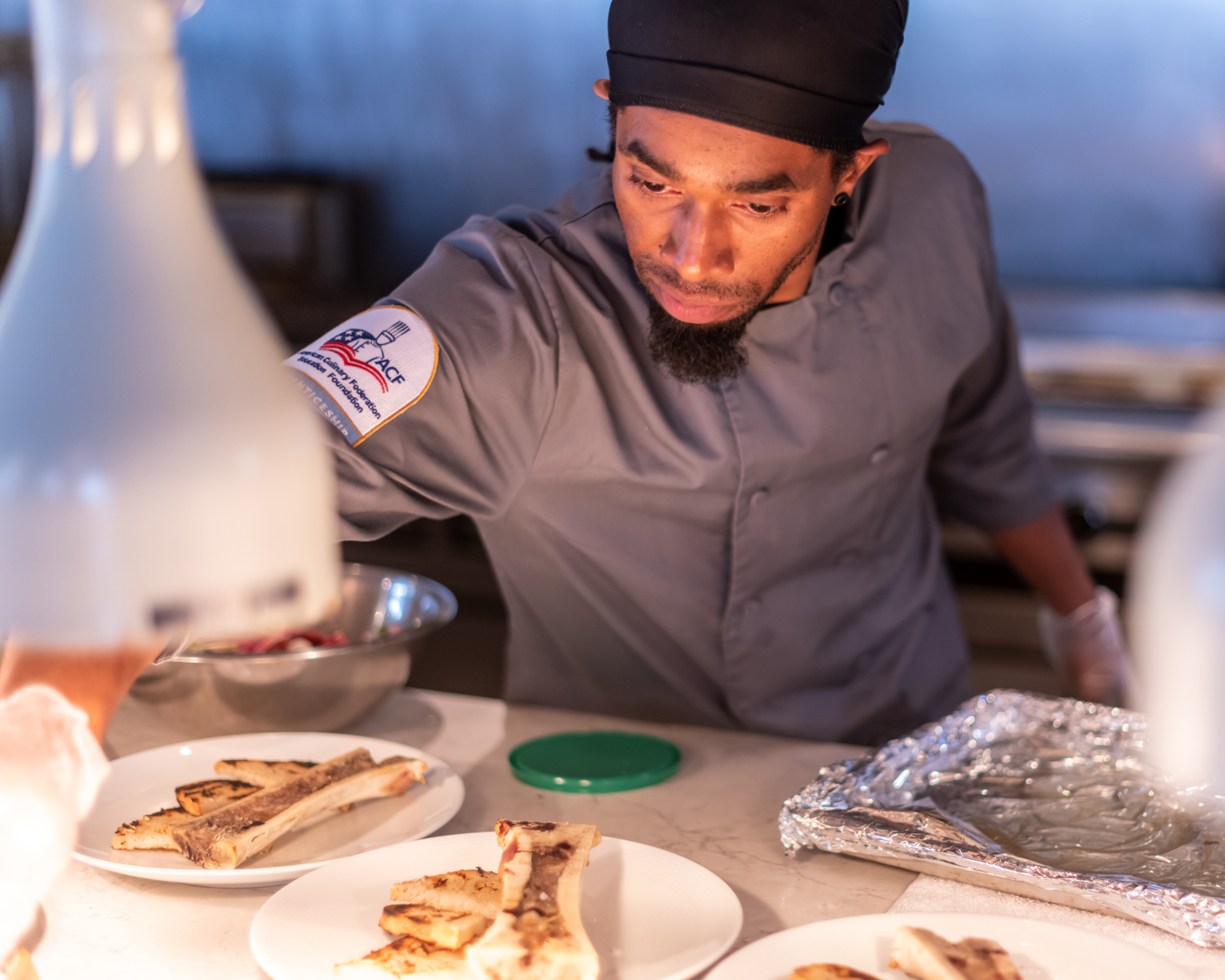 Taste Project is proud to partner again with Workforce Solutions for Tarrant County for a third year in its Fort Worx Culinary Job Training Program, a 16-week paid culinary pre-apprenticeship program.
Launched in 2021, Fort Worx is the only paid and accredited culinary job training program in Texas.  Apprentices spend 16-weeks learning the fundamentals of food preparation hands-on in real world environments while earning a paycheck.  Apprentices are also enrolled in the Culinary School of Fort Worth's Pre-Apprenticeship Program which includes American Culinary Federation (ACF) Certification and job placement support.  Since inception, 52 apprentices have graduated with an ACF Fundamentals Cook Certification.
"Fort Worx highlights how our Fort Worth community continues to come together to solve some of the toughest challenges in creative and innovative ways," says Jeff Williams, founder and executive director of Taste Project.  "Workforce Solutions for Tarrant County has always provided funding for apprentice wages, but we recognize the important role Workforce Solutions for Tarrant County also plays in recruitment, case management, and job placement support of our apprentices."
Foodservice positions are the most common jobs in the country.  Entry level foodservice positions, typically in fast food, start between minimum wage and $11 per hour.  But adults with some training can obtain living wage positions in full-service restaurants, and production kitchens—which is an expanding marketplace.  On average, Fort Worx graduates earn $15.92/hour upon initial job placement.  This is 45% higher than placement without the certified training offered through the Fort Worx program.
Employer partners include Aramark, Central Market, Chili's Alverado, Chipotle Mexican Grill, Colonial Country Club, Compass Group USA, the Crescent Hotel Fort Worth, Dickies Arena, Embassy Suites Downtown, the Fort Worth Club, the Gaylord Texan, Hilton DW Lakes, Marriott Worthington Renaissance Hotel, the Petroleum Club, Sage Dining Services, Sheraton Arlington, Texas Health Resources, Texas LIVE! by Loews, Texas Restaurant Association, TGI Friday's, Tim Love Restaurant Group, Watermark, and Westin DFW Airport.
"Fort Worx has been valuable in further connecting our mission with the community," said Judy McDonald, Workforce Solutions for Tarrant County Executive Director.
After piloting the Fort Worx program with Tarrant Area Food Bank for the last two years, Taste Project will continue to sustain this important program and expand the program into Arlington.  "We are grateful for the initial work Tarrant Area Food Bank has invested in this important program," said Jeff Williams, founder and executive director.  "The seed they planted will continue to nourish and feed our community for years to come."
Tarrant County residents are invited to earn while you learn through Taste Project's Fort Worx program.  No experience is required. Culinary cohorts start every month. Applications for the next cohort are currently being accepted.  Apply online at www.fortworx.org, or attend an in-person information session:
Wednesday, September 20th at 12:00pm
Workforce Solutions for Tarrant County
1515 S Sylvania Ave
Fort Worth, Texas 76111
Wednesday, September 20th at 6:30pm
Taste Community Restaurant
1200 South Main Street
Fort Worth, Texas 76104
About Workforce Solutions for Tarrant County
Workforce Solutions for Tarrant County (WSTC), under the direction of the Texas Workforce Commission (TWC), is one of 28 local workforce development boards located throughout the state. WSTC's primary goal is to meet the needs of Tarrant County employers and workers through locally designed market-driven workforce development initiatives and services. All employers, workers and job seekers are eligible to take advantage of these services. The 29-member Workforce Development Board (WDB) is made up of business and community leaders and is chaired by Gracie Vega, with The Gaylord Texan Resort and Conference Center. The WDB work in partnership with the Workforce Governing Board (WGB), which is composed of Fort Worth Mayor Mattie Parker, Arlington Mayor Jim Ross and chaired by Tarrant County Judge Tim O'Hare, to oversee Workforce services in Tarrant County. More information can be found at www.workforcesolutions.net or by calling 817-413-4000. NOTE: Workforce Solutions for Tarrant County is an employment and training resource and does not handle unemployment–that is the role of the Texas Workforce Commission.
About Taste Project
Taste Project is a 501(c)3 non-profit established to feed, educate, and serve our community so they may "…taste and see the Lord is good." Psalm 34:8. We believe everyone should have access to healthy nutritional food. Our vision is to see our community become the solution to the challenges our community faces as it relates to hunger.  Our first project, Taste Community Restaurant at 1200 South Main Street in Fort Worth, focuses on healthy, quality meals made from fresh ingredients. Our menu has no prices. This is a give-and-take concept. We ask guests to do one of the following: 1) pay what you can afford, 2) pay what you would typically pay, or 3) pay what you would typically pay, plus a little extra.  In 2024, Taste Project will open its second Taste Community Restaurant location at 200 N. Cooper St. in Arlington.  To learn more, visit us at www.tasteproject.org or find us on Facebook, Instagram, or Twitter.
###