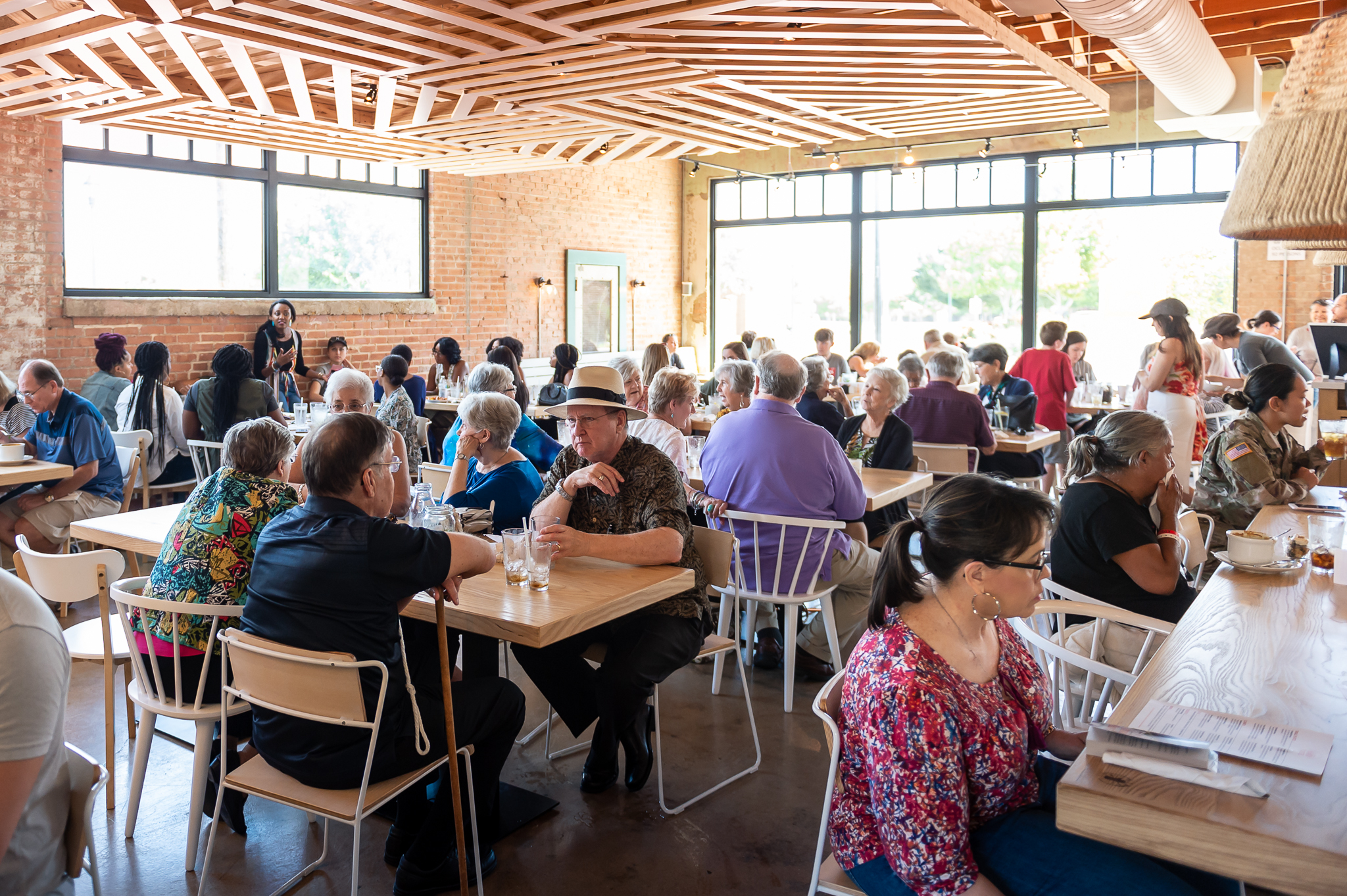 Breakfast Anyone?
Taste Project is competing in this year's KERNEL LIVE! for seed funding to support the expansion of its pay-what-you-can meal service to include breakfast.  "Currently, we are only open for lunch from 11:00am – 2:00pm which only utilizes a portion of our potential," says Taste Project Executive Director, Jeff Williams.  "Adding breakfast service will allow us to feed, educate, and serve more people in Tarrant county with our existing restaurant facility."
"We believe everyone should have access to healthy and nutritious food, which is a significant challenge in Tarrant County where nearly 17% are food insecure–36% of which do not qualify for government programs," noted Julie Williams, Taste Project Board Member.  "Expansion allows us to have a greater impact on our community."
Taste Project presented during Wednesday's semi-finalist round and placed in the United Way's top 3.  As a result, Taste Project will take their pay-what-you-can breakfast program proposal to the finale at the KERNEL LIVE! pitch competition.
"We are pleased to present our KERNEL social innovation competition for the third year," said TD Smyers, president and CEO of United Way of Tarrant County. "We are impressed with the three finalists and are thrilled to be offering $50,000 in seed money to help their ideas grow, in addition to the mentoring, technical assistance and guidance we provide the winning organizations."
Other finalists include the Welman Project, and Rosa es Rojo.  Each finalist will present before a panel of judges and community members during the KERNEL LIVE! event on Thursday, November 1st at Four Day Weekend Theater.  $25,000 will be awarded for first place, $15,000 for second place, and $10,000 for third place.
Here's how you can help Taste Community Restaurant launch for breakfast!
ABOUT TASTE PROJECT'S PROGRAM PROPOSAL
Taste Project is a 501(c)3 non-profit established to feed, educate, and serve our community so they may "…taste and see the Lord is good." Psalm 34:8.  We believe everyone should have access to healthy nutritional food. Our vision is to see our community become the solution to the challenges our community faces as it relates to hunger.  Our first project, Taste Community Restaurant at 1200 South Main Street in Fort Worth, focuses on healthy, quality meals made from fresh ingredients. Our menu has no prices. This is a give and take concept. We ask guests to do one of the following: 1) pay what you can afford, 2) pay what you would typically pay, or 3) pay what you would typically pay, plus a little extra.  To learn more, visit us at www.tasteproject.org or find us on Facebook.
ABOUT KERNEL LIVE
KERNEL, a program established in 2016 by the United Way of Tarrant County, fosters social innovation within Tarrant County and provides resources and seed funding for organizations and programs that comprise a combination of social impact, a sustainable revenue model, and an innovative approach to solving the social challenges in our community.  The KERNEL program's primary purpose is encouraging social innovation, connecting with community initiatives to nurture great ideas and making significant changes in key community challenges. By working with a cross-sector of people, organizations, nonprofits, for-profits and entrepreneurs to solve problems, we believe KERNEL can uncover world-changing ideas and help bring them to life.