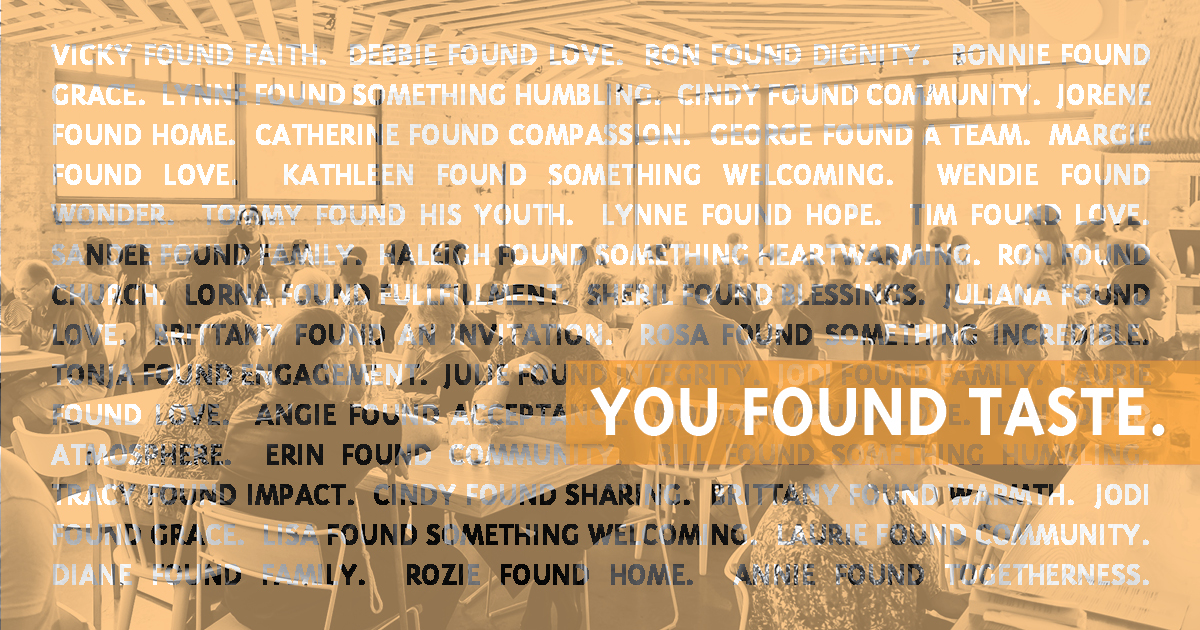 It has been two years since we opened the doors to Taste Community Restaurant. I will never forget our first service. It was Thanksgiving Day 2017, and I was a wreck. The team and I had just gone through a tedious construction period and we finally obtained our Certificate of Occupancy. There was little time to plan and promote a Thanksgiving Day opening—but I really wanted to open for Thanksgiving.
When I showed up to the restaurant Thanksgiving morning to start prep, we had no idea how many people we would serve that day. Would anyone come in to eat? And if people came, would there be enough volunteers to serve them?
So, I just started prepping food.  Chef Izzy joined me.  And Julie, my wife, started printing the menus. Then the volunteers started showing up. First, Diane and Ross who began trimming a thousand green beans by hand. Then came Wendi, who began mashing fifty pounds of potatoes. I was making the pimento cheese for the appetizer and I had started roasting the turkey in the oven. Izzy baked cornbread and later turned it into dressing.  The pecan bars and pumpkin bars were already cooling.  Julie, and a group of people I have never met before that day, rounded out the team up front.
…And at 11am, November 23, 2017 Taste Community Restaurant opened its doors for the very first time!
That first day, 55 people came in to eat. I did not know which guests were in need and which simply came to show their support.  The only thing I saw that day was 55 people eating alongside friends and family, all with smiles on their faces.  Each of them enjoying their meal.  It was one of the greatest blessings of my life to see those 55 people sitting in the dining room at Taste. But it was just the beginning.
In the two years that followed, I have had the blessing of seeing over 50,000 more people come through the front door and not only be fed, but also loved.  Afterall, loving people is what we do at Taste. Our little community of volunteers and staff show people love through a simple meal and an investment of time with them. It is one of the most amazing things I have ever seen or experienced.
Reflecting on that first day, everything made sense to me. I had a strong business plan I had spent years researching and perfecting. In the projections the restaurant would survive with 80% of its guests funding the gap left by the 20% of the guests who were in need. However, when we opened the doors, 50% of our guests were in need. And the neigh-sayers made things worse saying, "That will never work!" and "People will just take advantage of it and ruin it for everyone".  It felt like those neigh-sayers were rooting for the whole thing to fail.
But, Taste Community Restaurant has not failed.  Instead, God showed up! He brought diners, He recruited volunteers, and He persuaded donors to come and give their support to Taste Community Restaurant.  And as a result of all these people who showed up, in October we fed the 50,000th person at Taste Community Restaurant!  It is nothing short of a miracle.
I get a lot of credit for "dreaming this place up", and I get to carry the title of "Founder" on my business card. But the truth is, I did not dream this place up. It was God who gave me this dream. I just showed up and did my part, and God took care of the rest. The same as He did for many other people who together have brought this dream to a reality.
A founder is the one who begins or establishes something; the one who gets it started. Over the last two years, since Taste Community Restaurant opened, I have met thousands of founders. Over 50,000 people showed up to eat, nearly 2,000 people showed up to volunteer, and hundreds more showed up to give. 
Vicky found faith.  Debbie found love.  Ron found a church.  Bonnie found grace.  Cindy found community.  Jorene found home.  Catherine found compassion.  George found a team.  Tommy found his youth.  Lynne found hope.  Sandee found family.  Lorna found fulfillment.  Sheril found blessings.  Tonja found engagement.  Julie found integrity.  Angie found acceptance.  Lyn found atmosphere.  Tracy found impact.  Brittany found warmth.
What will you be the founder of?
"Founder" may be on my business card, but you can be a founder as well. You do not need to dream something up to be a founder; all you need to do is show up. If you do not know where to start, you can begin here at Taste!
Come dine with us.  Catherine found compassion at the community table when she asked how a fellow diner was doing. You can too! Come join us for breakfast, lunch, or brunch.
Come volunteer with us.  Phillip found new purpose when he began waiting tables. You can too! Join our team of volunteers.
Give to ensure the next 50,000 people are fed.  John found joy when he donated to Taste.  You can too!  Join our team of monthly supporters.
Thank you for your support these last two years.  I am so grateful you found something here.
Written by Jeff Williams.  Photo credit: Ross Reitzammer.  
Jeff Williams is founder and President of Taste Project. He has always had a passion for cooking, food, and feeding people.  Being half Italian, Jeff's heritage feeds his passion and discovery in the area of Italian Cuisine.  His vision for Taste Community Restaurant is different than a growing, profit generating, Italian restaurant.  His vision is not a homeless shelter or a soup kitchen; but a place where every day folks eat; and those who could not afford to eat there, could still enjoy a meal in the restaurant. In June 2012, Jeff launched Taste Project, and on December 5th, 2017 launched the first project, a non-profit restaurant called Taste Community Restaurant.    
---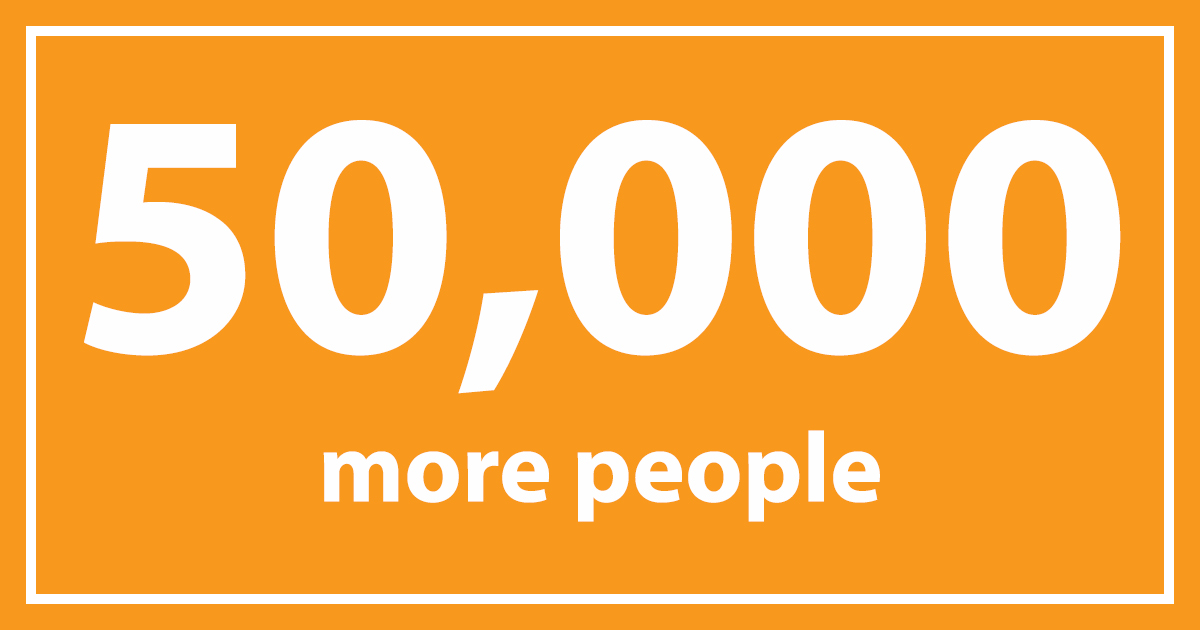 50 for 50,000
Help 50,000 more people find Taste 
Will you give to ensure the next 50,000 people find something here at Taste Community Restaurant?  We are looking for 50 people who can commit to giving $50 per month for the next 50,000 people (est. 2 years).  Individual monthly supporters are critical to our success.  And, your gift can help more people find what you have found at Taste.