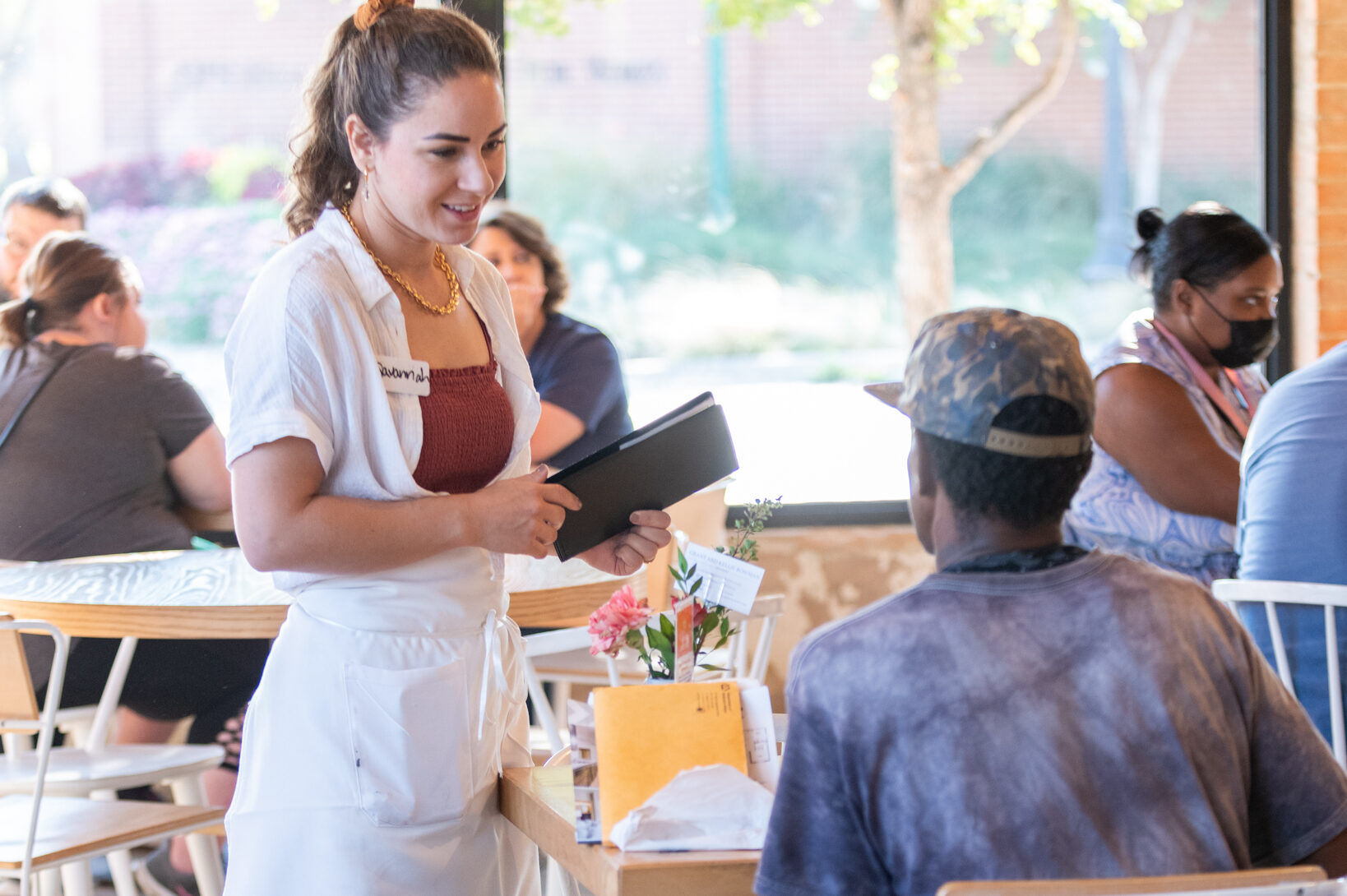 Record Week is Indication of a Record Season
Last week, we served a record 1,010 people at Taste Community Restaurant!–a record 33% higher than our average week in 2022.  This new record highlights the growing need in our community for access to healthy, nutritious food.
Record inflation driving increased food prices at the grocery store, and the recent elimination of SNAP allocations issued during the pandemic, are impacting working families in our community.  Many of these vulnerable families already live paycheck to paycheck because of the lack of affordable housing in Tarrant County and rising healthcare costs.
"I am grateful there is a place in our community for families like mine when I was growing up to get a good meal," says Jeff Williams, founder and executive director of Taste Project.
Jeff Williams has always had a burden for feeding people.  Jeff grew up in a family of four, and both his parents worked hard to put food on the table.  He remembers the times when food was scarce, and his parents would skip meals to make sure he and his sister were full.
Jeff understands first-hand the stress his parents encountered to put food on the table in tough times.  And it's a familiar story for many of our neighbors in need, which is why he started Taste Project.
Since opening day in 2017, Taste Project has served over 150,000 people at Taste Community Restaurant in Fort Worth; more than half of whom received a free or subsidized meal.  This Spring season, we are preparing to serve nearly 15,000 people!
In anticipation, we are launching a NEW Spring menu this week featuring Whole Wheat Waffles, Avocado Toast, Shaved Carrot and Beat Salad, our fan favorite Potato and Leek Soup, Chicken Arepa, and Lamb Kofta Kabobs.  Many ingredients are picked fresh from our on-site garden including spring onions, garlic, radishes, peas, and herbs.
Breakfast Menu       Lunch Menu       Brunch Menu
In addition, we will welcome 12 additional Culinary Apprentices who are training for their ACF Fundamental Cook Certification as part of our Fort Worx Collaborative Job Training Program.   This is the largest cohort since the program started in early 2021.
Learn More About Our Job Training Programs
It will be a busy Spring season at Taste Community Restaurant.  You can become part of the solution to the challenges our community faces when you dine at Taste Community Restaurant, sign up to volunteer, or give online to support the work we do!
Taste Community Restaurant is open for breakfast and lunch on weekdays, and brunch on weekends.  Reservations are not required but recommended.  You can reserve a table online at www.tasteproject.org.
Taste Community Restaurant
1200 South Main Street
Fort Worth, Texas 76104
Open for Breakfast and Lunch: Tuesday – Friday (9:00am – 2:00pm)
Open for Brunch: Saturday and Sunday (9:00am – 2:00pm)
(Closed on Mondays)