Come Eat with Us
Please join us for lunch at Taste Community Restaurant.  We have saved a seat just for you, and every detail is being organized so you feel right at home.  We want to meet you and meet your needs in a personal and meaningful way.  Whether that is a meal, or a friendly face, we hope to see you soon!
How it Works
Our menu has no prices, not because we're fancy, but because we ask guests to pay-what-you-can.  Those in need and those wanting to help are not segregated, in order to create an environment that is approachable and refreshing.  All guests can do one of the following:
Pay what you can afford, or

Pay what you would typically pay, or

Pay what you would typically, plus a little extra.
Our Winter Menu 
Our menu changes as often as the seasons.  It is a mix of healthy and hearty meals to accommodate the foodies in the neighborhood while also remembering this may be the only meal some of our guests eat all day.
SMALL PLATES
Beet Hummus
Chickpea and golden beet hummus, topped with Feta cheese, pistachio nuts and the Virgin Olive Oiler's olive oil.
Meatballs
Kobe beef meatballs with pine nuts and mint served in a rich cream sauce.
Lamb Pita Bites
Slow roasted lamb served on mini pitas with yogurt sauce and topped with sun dried tomato and olive pesto.
Beet and Orange Salad
Roasted golden beets, oranges, onions, and pistachio nuts on a bed of baby arugula dressed with a citrus vinaigrette. (Vegan)
Beef Barley Soup
Hearty soup of rib-eye and barley with carrots, potatoes, and cauliflower.
Carrot Curry Soup
Spicy carrot soup with hints of ginger and coconut milk.  (Vegan)
LUNCH
Kobe Burger
Kobe beef topped with Gorgonzola cheese, arugula, onion balsamic jam, and mayo on a toasted pretzel bun. Served with crispy potatoes.
Fennel Chicken with Barley
Roasted chicken thigh with fennel crust served over barley with olives, and sun dried tomatoes.
 Stroganoff
Rib-eye steak and mushrooms smothered in a tangy cream sauce and served over egg noodles.
Chicken Salad Sandwich
Traditional chicken salad with olive and sun dried tomato pesto served on house-made Focaccia bread. Served with crispy potatoes.
Roasted Lamb
Marinated lamb slow roasted in-house and served over an Indian inspired chickpea dal.
Vegetable Curry   
Chickpeas, potatoes, broccolini, cauliflower, and Kaffir lime leaves in a coconut curry sauce.  (Vegan)
JUST FOR KIDS
Focaccia Slider with Crispy Potatoes  |   Meatballs with Butter Noodles   |  Beef Stroganoff
DESSERTS
Cannoli Cup
Ricotta cheese, pistachio nuts, and chocolate chips topped with a crispy cannoli wafer and served in a mason jar.
Chocolate Mousse
Light velvet mousse, made with Dr. Sue's Chocolate and served in a mason jar.
DRINKS
Sodas
Coke, Diet Coke, Dr Pepper, and Sprite
Premium Cold Brewed Iced Tea
Homemade Lemonade
Milk
Apple Juice
Pour Over Coffee
Hours and Location
We are open Tuesday – Sunday for lunch from 11:00am – 2:00pm.
We will be closed Christmas Day and New Years Day.
Taste Community Restaurant
1200 South Main Street
Fort Worth, Texas 76244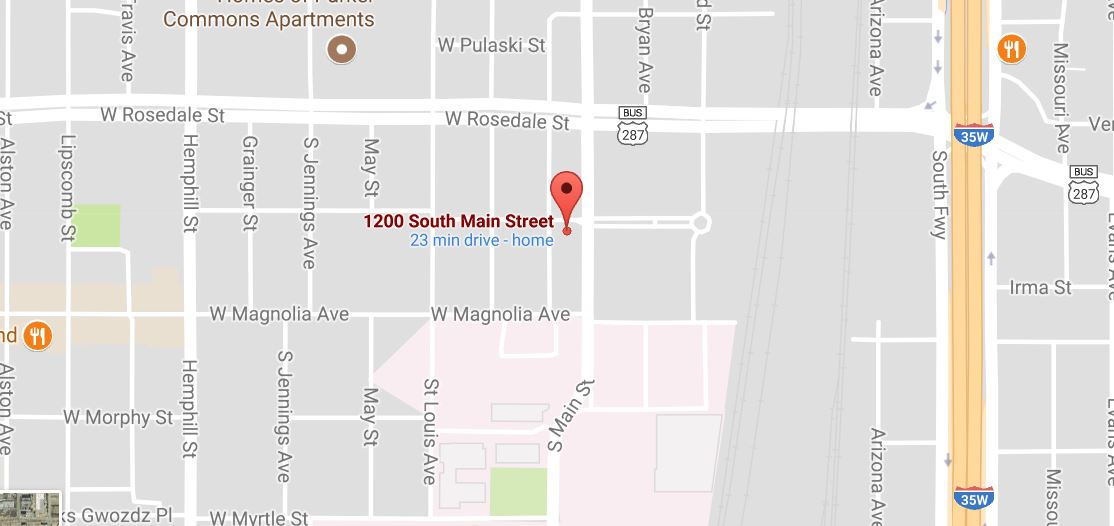 Parking Information
All parking is Street Parking.  The map below can guide you to the best areas to park.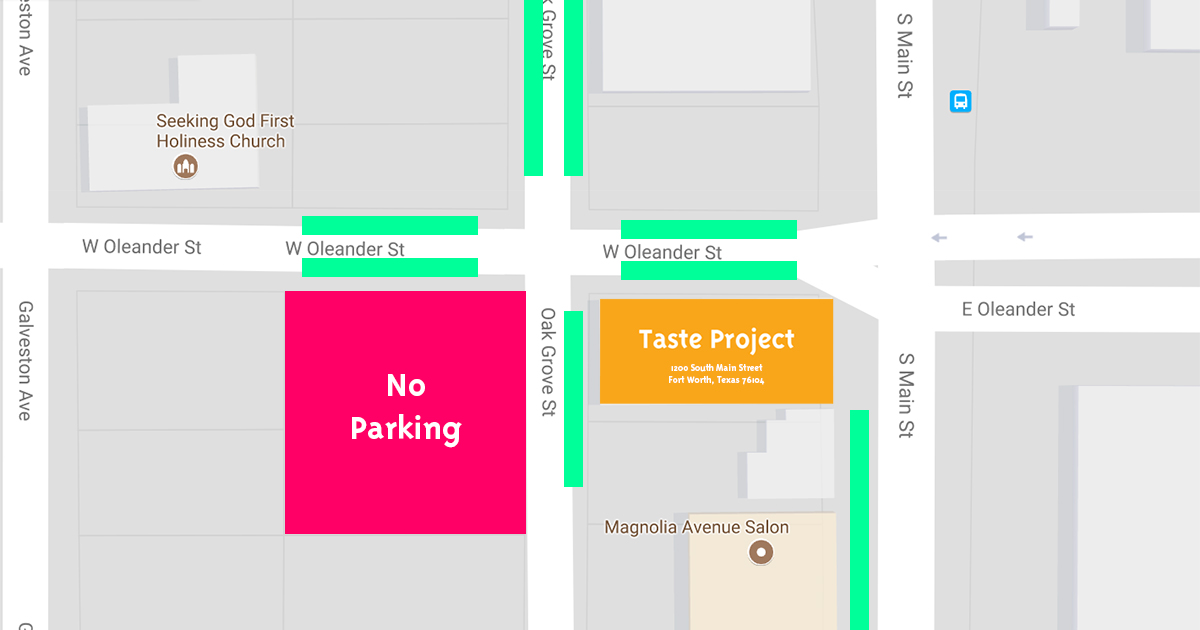 Q: What is the difference between pay-what-you-can and pay-what-you-want business models? 
A: The pay-what-you-can business model focuses on providing goods or services to folks in need by relying on the generosity of those who are enjoying the same type of goods or services.  Customers pay what they can afford if in need, pay what they would typically pay if not in need, or pay a little extra to help someone in need.  Typically, customers mentally determine what they will pay before goods or services have been performed.
In contrast, pay-what-you-want asks customers to pay what they determine the value of the product or service is worth to them, typically after the services have been performed.
Q: Is Taste Community Restaurant like Potager Café in Arlington, Texas? 
A: Potager's Café was focused on a pay-what-you-want concept to educate the community about where their food comes from.  Owner Cynthia Chippindale asked patrons to "ask for only as much as you can eat, and pay what you feel it was worth."
Potager Café closed on October 31, 2015.  The building was crumbling and in disrepair.  According to owner Cynthia Chippindale, "it was no longer a safe place for my friends to gather for some genuine food and friendship".
Q: Do you accept food and produce donations?
A: Taste Project purchases and negotiates all food and produce served inside Taste Community Restaurant.  Our goal is to end hunger in our community.  Which is why we don't want to dilute or divert donations originally intended for the Food Bank.  Accepting donations would shift resources from the Food Bank versus creating additional solutions to end hunger.
The Tarrant Area Food Bank and the North Texas Food Bank are phenomenal organizations also working to solve hunger in our community.  Please direct all food and produce donations here.
Q: What if people take advantage of the pay-what-you-can model?
A:  Our point of sale system at Taste Community Restaurant is focused on removing any guilt and shame someone in need may face when they come to eat.  But this also makes it difficult to spot abuse.  We are focused on not letting these concerns keep us from helping those in need.
There are 60 nonprofit cafes across the country, and many combat abuse with education.  A solid education plan of the pay-what-you-can model is essential to ensuring people in our community who need help can get help; and people in our community who want to help can help.  And together, the community ensures the long-term success of Taste Community Restaurant.
Q: Do you have vegetarian options on your menu?
A: Our menu is flexible and will change as often as the seasons.  Chef Jeff works hard to focus on local and seasonal ingredients to keep food costs low and food quality high.  Even as the menu changes, we are committed to always have vegetarian options for our guests.
Q: Do you serve alcohol?
A: We do not serve alcohol; however, we intend to offer BYOB service when we open for dinner.
Q: When will you open for dinner?
A:  80% of our team at Taste Community Restaurant is volunteers.  As we scale the pay-what-you-can model, our only limitation to dinner service is the availability of volunteers.  We would love to set a date for dinner service, but this will be up to the community.  You can help expedite our timeline to dinner service by signing up to volunteer.
Q: Is there outdoor and patio seating?
A: Our design plan is for a relaxing place to hang with friends and family.  The designs include a large patio and pergola with space for lawn games and small events.  And the designs also include planters to support an herb garden for use in the restaurant.  Everything you need for a relaxing evening in the Near Southside!
We are looking for donations to complete the patio which will allow us to seat and service 30-40 more seats.  This equates to an additional 15,000 meals.  Help make the patio at Taste Community Restaurant a reality, and donate today.
If you have a question of your own, don't hesitate to ask.  You can contact us here.