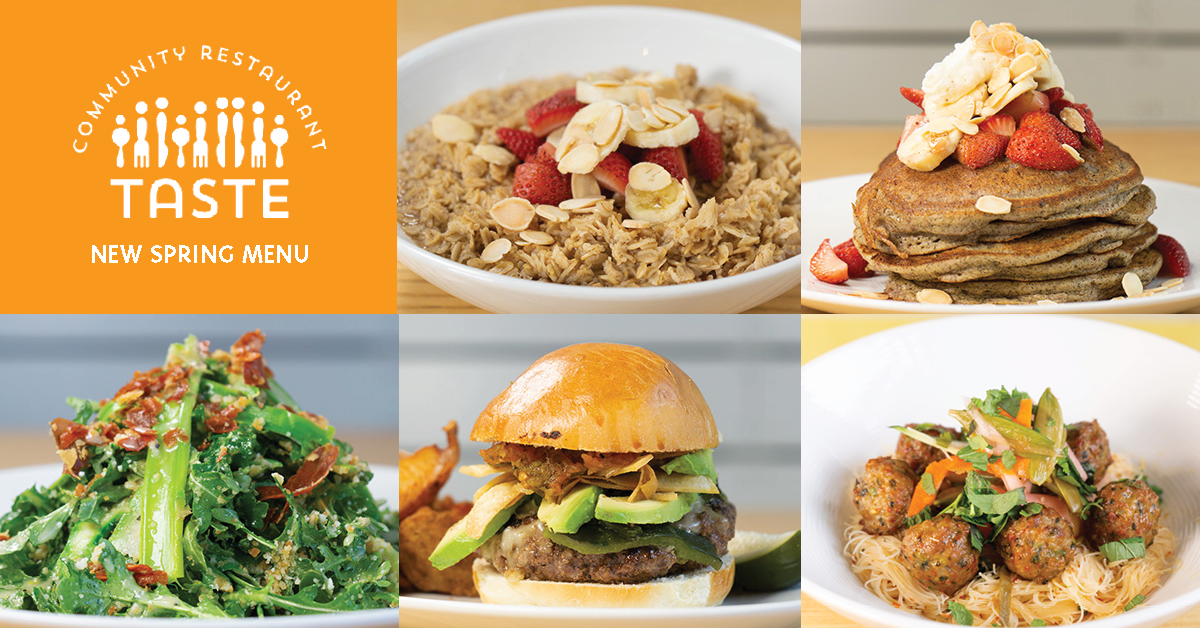 Our new spring menu launches this week at Taste Community Restaurant.  This menu is marked by its lighter, fresher fare with some ingredients harvested from our on-site garden.  Dishes include Buckwheat Pancakes, Shaved Asparagus Salad, Vietnamese Noodle Bowl, Southwest Burger, and so much more.
"With spring comes a freshness and renewal," says Chef Jeff Williams, Founder and Executive Director.  "And I am excited for our community to taste and see the freshness that spring brings."
While seasonal menus are not a new concept in Fort Worth, this feat is particularly inspiring given we operate with a staff consisting mostly of volunteers.  Nearly 3,000 people have volunteered over 70,0000 hours at Taste Community Restaurant since opening day.  In addition, we have graduated 16 Culinary Apprentices from our new Fort Worx accelerated job training program.
Over 100,000 people have dined at Taste Community Restaurant, our first project designed to help feed, educate, and serve Tarrant County's food insecure population, a total of 13 percent of Tarrant County's overall community (Feeding America).
Our solution is a fresh and healthy pay-what-you-can restaurant where everyone in the community regardless of financial means can enjoy a healthy, high quality meal, made from seasonal ingredients from the surrounding area. The menu has no prices. Guests are asked to:
Pay what you can afford;
Pay what you would typically pay; or
Pay what you would typically pay, plus a little extra to help a neighbor in need.
"The food is amazing", says Mahal a Taste Community Restaurant guest.  "The concept is brilliant and I'm proud to know that this is in my community!"
We encourage all Fort Worth and surrounding area residents to come be a part of building your community through Taste Community Restaurant.
Taste Community Restaurant
1200 South Main Street
Fort Worth, Texas 76104
Open for Breakfast and Lunch: Tuesday – Friday (9:00am – 2:00pm)
Open for Brunch: Saturday and Sunday (10:00am – 2:00pm)
(Closed on Mondays)
Breakfast Menu      Lunch Menu      Brunch Menu
Volunteer opportunities exist Tuesday thru Sunday in various 3 hour shifts starting as early as 8am with our last shift from 12pm – 3pm.
Taste Project is now enrolling Culinary Apprentices for its Fort Worx pre-apprenticeship program.
About Taste Project
Taste Project is a 501(c)3 non-profit established to feed, educate, and serve our community so they may "…taste and see the Lord is good." Psalm 34:8.  We believe everyone should have access to healthy nutritional food. Our vision is to see our community become the solution to the challenges our community faces as it relates to hunger.  Our first project, Taste Community Restaurant at 1200 South Main Street in Fort Worth, focuses on healthy, quality meals made from fresh ingredients. Our menu has no prices. This is a give and take concept. We ask guests to do one of the following: 1) pay what you can afford, 2) pay what you would typically pay, or 3) pay what you would typically pay, plus a little extra.  To learn more, visit us at www.tasteproject.org or find us on Facebook, Instagram, or Twitter.
###