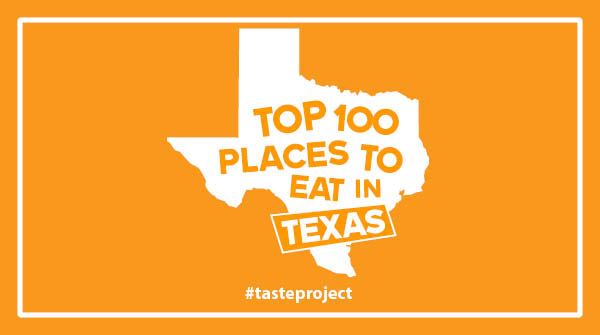 We have earned a place in Yelp's Top 100 Places to Eat in Texas once again!  With nearly 50,000 restaurants across the state of Texas, it can be hard to decide where to eat.  Each year, Yelp narrows down the selections to the top 100 dining experiences that are a 'must try'.  Coming in at #40, is Fort Worth's nonprofit restaurant: Taste Community Restaurant.
"I am grateful families like mine can dine at one of the top 100 places to eat in Texas!" says Jeff Williams, founder and executive director of Taste Project.  "I hope the recognition from our Yelp community allows even more people to 'taste and see the Lord is good' here at Taste Community Restaurant."
Jeff grew up in a family of four, and both his parents worked hard to put food on the table. He remembers the times when food was scarce, and his parents would skip meals to make sure he and his sister were full. Jeff understands first-hand the stress his parents encountered to make sure his family had enough to eat. This is a familiar story for many of our neighbors in need.
Like Jeff's family growing up, many residents in our community are food insecure. This year, we are serving nearly 50% more people at Taste Community Restaurant than in 2022. This sharp increase in diners is the result of the change in Supplemental Nutrition Assistance Program (SNAP) benefits.
SNAP benefits support low-income working families, disabled individuals, and seniors on fixed incomes to purchase nutritious food. During the pandemic, SNAP beneficiaries received a boosted emergency allotment which ended in March 2023. These families are now faced with rising housing and food costs.
According to the USDA, unexpected increases in the price of food, utilities, and gasoline can adversely affect food security. Its research indicates food insecure households respond to rising gasoline prices by decreasing the amount of food they purchase (USDA).
To access nutritious meals at a cost they can afford, diners have been flocking to Taste Community Restaurant. Some come once per week, while others frequent several times a week to help stretch their food budgets.
Nearly 200,000 people have dined at Taste Project's Taste Community Restaurant in Fort Worth since opening in 2017. Our mission is to help feed, educate, and serve Tarrant County's food insecure residents who make up 12 percent of the county's population, according to Feeding America.
We provide healthy, high-quality meals made from seasonal ingredients from the surrounding area. The menu has no prices. Guests are asked to:
Pay what you can afford;
Pay what you would typically pay; or
Pay what you would typically pay, plus a little extra to help a neighbor in need.
"I was looking for brunch & Yelp steered me to Taste! Thank goodness," says Andrea, a Taste Community Restaurant guest and Yelp reviewer.  "Taste is a pay-what-you-can community outreach. I would put it up against ANY of the bougie neighborhood brunches I've been to!"
"Great place to eat and give back to the community," says Tracy, a Taste Community Restaurant guest and Yelp reviewer. "…Great place for a good cause."
Whether you have dined at Taste Community Restaurant before, or if you are new to the concept, our new fall menu provides a reason for everyone to visit.  This season's menu is marked by wild mushrooms, butternut squash, and fresh herb flavors throughout.  Fresh and healthy options include roasted butternut squash fall hash, fresh start oatmeal, wild mushroom toast, kale salad, fennel and black pepper chicken sandwich, roasted mushroom enchiladas, and so much more!
Breakfast Menu      Lunch Menu     Brunch Menu
Taste Community Restaurant is open for breakfast and lunch on weekdays, and brunch on weekends.  Reservations are not required but recommended.  You can reserve a table online at www.tasteproject.org
Taste Community Restaurant
1200 South Main Street
Fort Worth, Texas 76104
Open for Breakfast and Lunch: Tuesday – Friday (9:00am – 2:00pm)
Open for Brunch: Saturday and Sunday (9:00am – 2:00pm)
Closed on Mondays
About Taste Project
Taste Project is a 501(c)3 non-profit established to feed, educate, and serve our community so they may "…taste and see the Lord is good." Psalm 34:8. We believe everyone should have access to healthy nutritional food. Our vision is to see our community become the solution to the challenges our community faces as it relates to hunger.  Our first project, Taste Community Restaurant at 1200 South Main Street in Fort Worth, focuses on healthy, quality meals made from fresh ingredients. Our menu has no prices. This is a give-and-take concept. We ask guests to do one of the following: 1) pay what you can afford, 2) pay what you would typically pay, or 3) pay what you would typically pay, plus a little extra.  In 2024, Taste Project will open its second Taste Community Restaurant location at 200 N. Cooper St. in Arlington.  To learn more, visit us at www.tasteproject.org or find us on Facebook, Instagram, or Twitter.
###