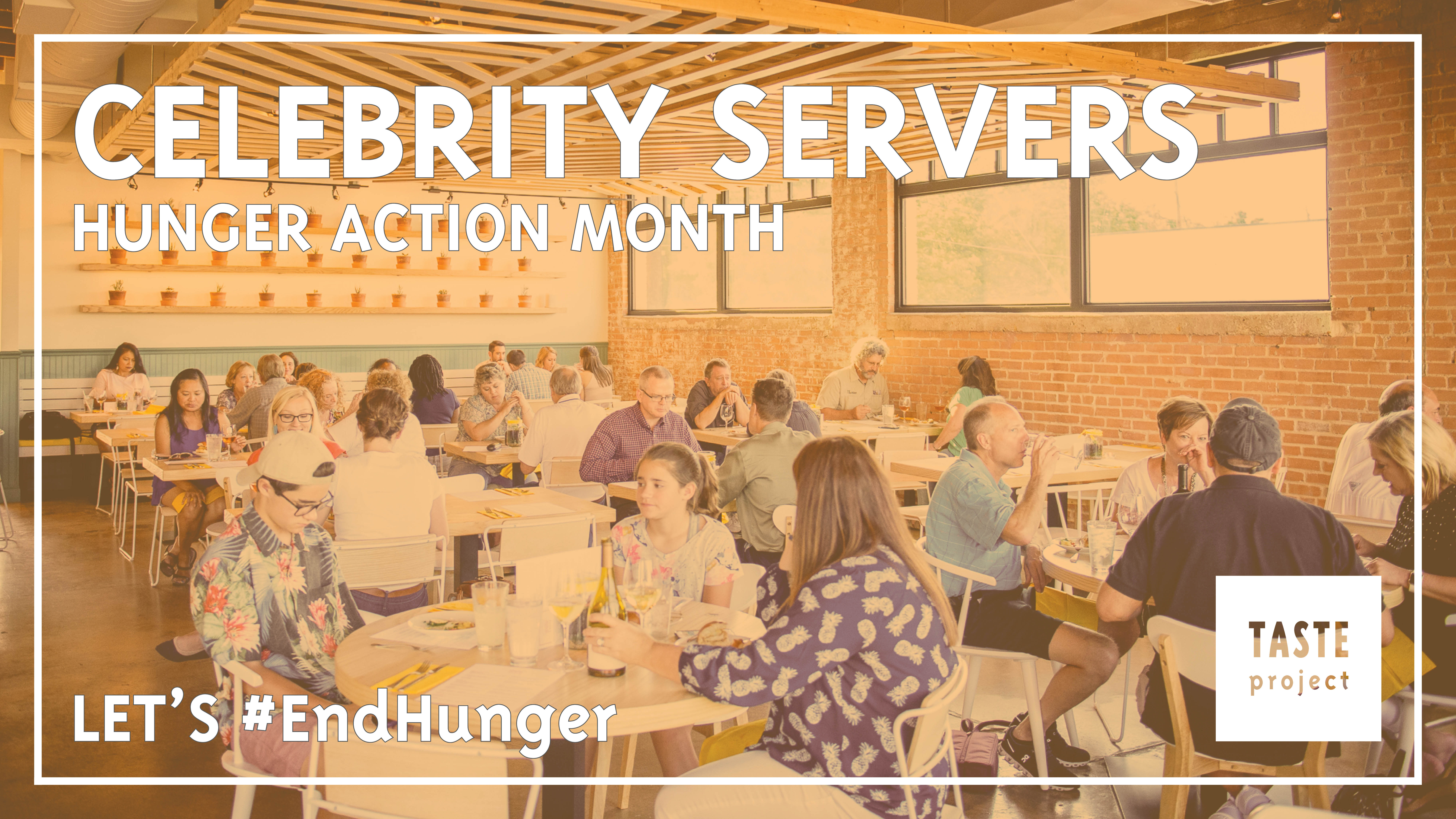 September is National Hunger Action Month and Fort Worth's newest nonprofit restaurant, Taste Community Restaurant, is partnering with local celebrities and notables to help encourage its community to take action and end hunger.
Throughout the month of September, Taste Project will host celebrity servers at Taste Community Restaurant to help encourage all Fort Worth residents to come show support for the underlying issue of food insecurity in our community.  Celebrities include TCU Athletics; radio personality and businesswoman Charla Corn; Mike Brennan, Megan Henderson, Becky Bethel, Amanda Harrier, Allison Docker, and Natalie Chapa from the Near Southside, Inc. Team; City Councilwoman Ann Zadeh; Fort Worth Symphony's Music Director Miguel Harth-Bedoya; and Doug, Becky, and James Renfro from Renfro Foods.
Event dates are as follows (click event for more information):     
This is your chance to eat, serve, and give alongside some of Fort Worth's notables while also helping to end hunger in our community.  And, thanks to the generosity of a local foundation, we are thrilled to announce a 1-for-1 matching donation during each Celebrity Lunch Service.  This means your $50 donation will become $100, and your $100 donation will become $200. Instead of helping 1 person, you can help 2 people. And instead of helping 10 people, you can help 20 people!  
All donations will be matched up to $1,000 per donor and $30,000 in total.
Taste Community Restaurant is the first project of the Taste Project organization designed to help feed, educate, and serve Tarrant County's food insecure population, a total of 16.6 percent of Tarrant County's overall community (Feeding America).
Taste's solution is a fresh and healthy pay-what-you-can restaurant where everyone in the community, regardless of financial means, can enjoy a healthy, high quality meal, made from seasonal ingredients from the surrounding area. The menu has no prices. Patrons are simply asked to:
Pay what you can afford;
Pay what you would typically pay; or
Pay what you would typically pay, plus a little extra to help a neighbor in need.
To-date, Taste Community Restaurant has served over 10,000 meals; some guests are in need, and others want to help.  "…This establishment has helped me on days of need. Not just nutritionally but spiritually. …A beacon of light for me in a very dark time!" –Guest.  "I think you've changed my view of the world after we ate lunch here today… Thank you so much for making my heart so full." –Jennifer
Taste Project, and it's Celebrity Server Team want to encourage all Fort Worth and surrounding area residents to come and eat, volunteer, and give.  Because together we can make a difference.  Lunch is served from 11am – 2pm, Tuesdays thru Sundays.
Taste Community Restaurant
1200 South Main Street
Fort Worth, Texas 76104
Open for Lunch: 11:00am – 2:00pm
Tuesdays – Sundays (Closed on Mondays)
About Taste Project
Taste Project is a 501(c)3 non-profit established to feed, educate, and serve our community so they may "…taste and see the Lord is good." Psalm 34:8.  We believe everyone should have access to healthy nutritional food. Our vision is to see our community become the solution to the challenges our community faces as it relates to hunger.  Our first project, Taste Community Restaurant at 1200 South Main Street in Fort Worth, focuses on healthy, quality meals made from fresh ingredients. Our menu has no prices. This is a give and take concept. We ask guests to do one of the following: 1) pay what you can afford, 2) pay what you would typically pay, or 3) pay what you would typically pay, plus a little extra.  To learn more, visit us at www.tasteproject.org or find us on Facebook.
###