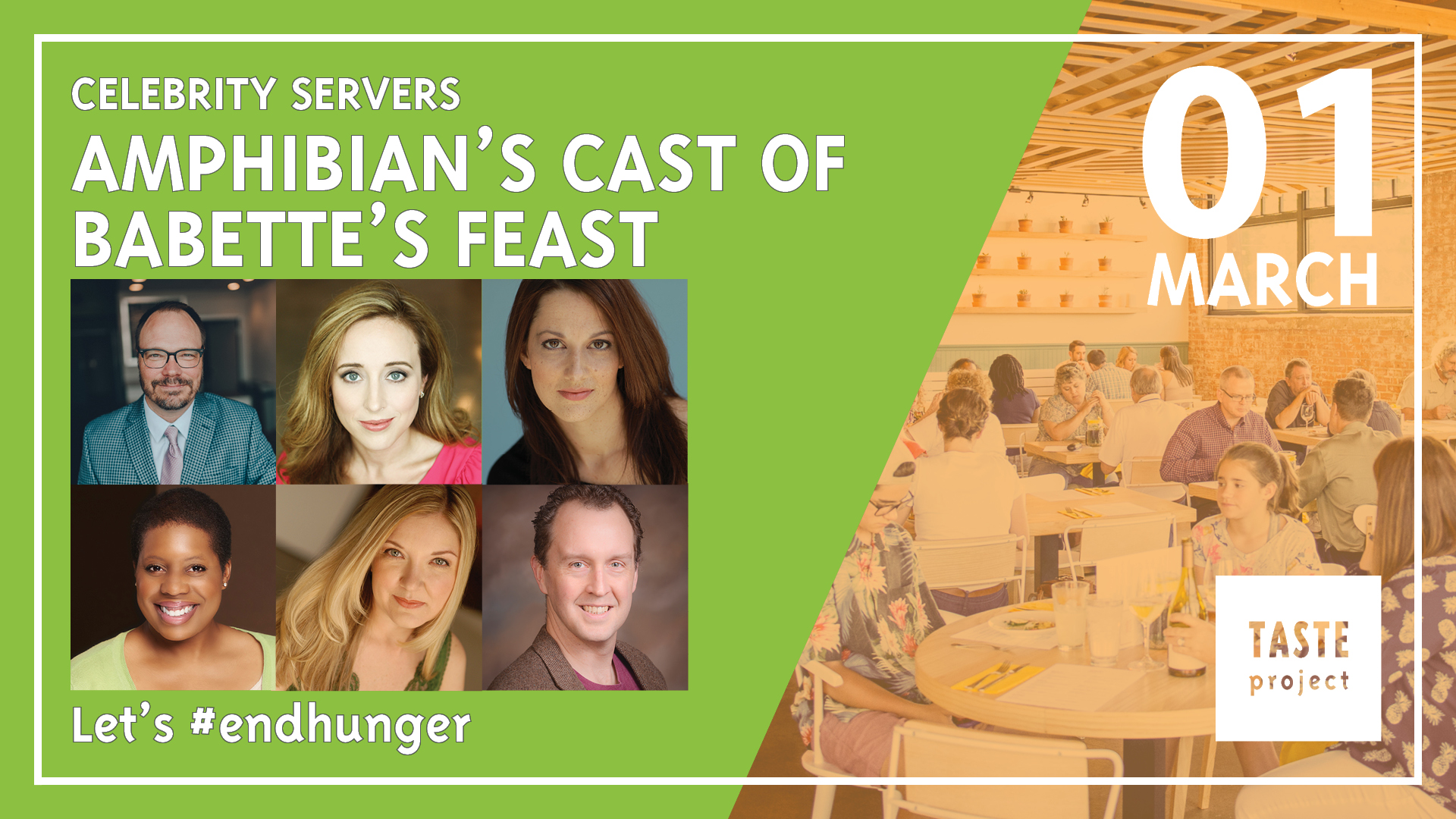 We have officially served 30,000 meals at Taste Community Restaurant.  To celebrate, we are partnering with local celebrities and notables to encourage all Fort Worth and surrounding area residents to become an active participant in building their community.
Throughout the month of March, we will host celebrity servers at Taste Community Restaurant.  On Friday, March 1st, we are partnering with Amphibian Stage Productions and the cast from its upcoming play, Babette's Feast.
Located just blocks from Taste Community Restaurant, Amphibian Stage Productions strives to produce innovative and engaging theater that inspires new ideas, opens new doors, and increases our understanding of the vast world around us.  It's upcoming production, Babette's Feast, is based on Isak Dinesen's short story made famous by the 1987 Academy Award-winning film, this new stage adaptation tells the story of Babette, a French refugee, who finds asylum in a pious Norwegian village. With boundless generosity, she throws a lavish feast that becomes an agent of transformative grace, healing a fractured community.  The show runs Friday, May 3, 2019 to Sunday, May 26, 2019.  Find out more here.  
Join us, and Amphibian Stage Productions' cast of Babette's Feast as they volunteer and serve lunch to our community at Taste Community Restaurant.

Reservations are not required, but encouraged.

And, thanks to a team of Matching Funders, we are thrilled to announce a 1-for-1 matching donation on select days in March.  All donations will be matched up to $1,000 in total on each selected day.  To find out how you can become a Matching Funder and match a special day in March, click here.