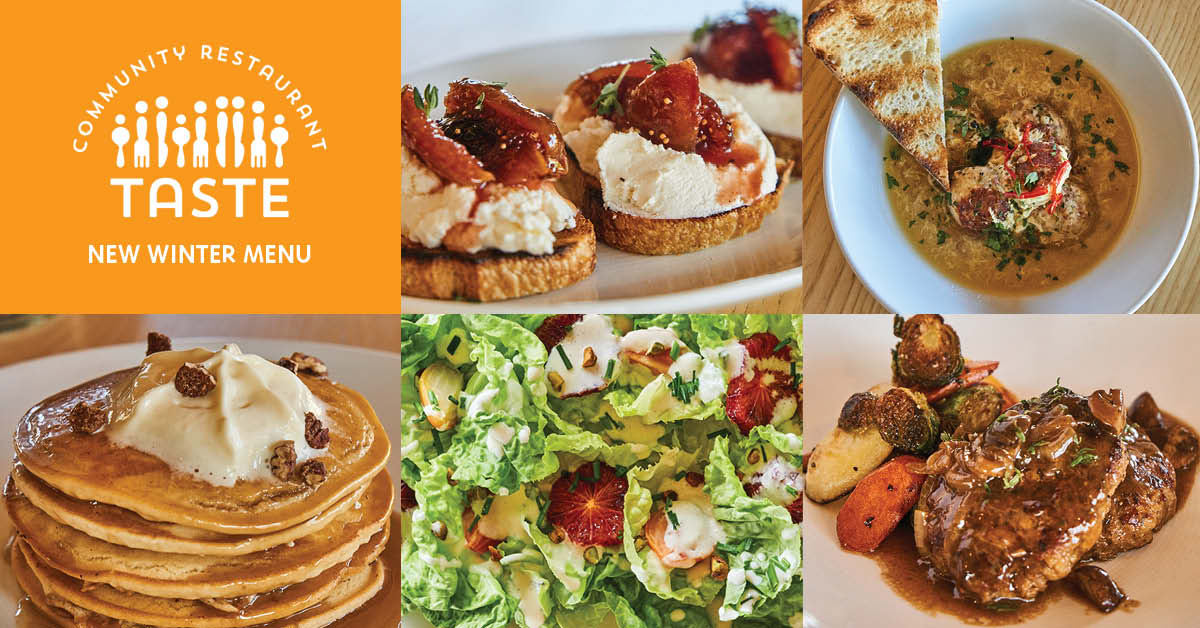 Fort Worth's nonprofit restaurant, Taste Community Restaurant, launches its NEW Winter Menu today—just as the organization celebrates its second anniversary.
In its first two years, the organization has served over 50,000 people.  15 different seasonal menus provided over 90 different made-from-scratch entree choices consisting of over 33,000 pounds of fresh produce.  And, nearly 2,000 volunteers have invested over 37,000 hours to meet the needs of its community.
"Thank you for the great meal.  I feel better when I eat a healthy meal.  Every time I come, I leave happier than when I came in.  The volunteers are wonderful, friendly, and so kind.  Thank you all."  Mary, Taste Community Restaurant Guest
The menu changes as often as the seasons and this season's menu includes a mixture of healthy and hearty options including: eggnog pancakes, blood orange and pistachio salad, fig and ricotta crostini, wedding soup, and salisbury steak.  Full winter menus are now available online:
Breakfast Menu      Lunch Menu      Brunch Menu
"I get a lot of credit for 'dreaming this place up', and I get to carry the title of 'Founder' on my business card," says Chef Jeff Williams, Founder and Executive Director of Taste Project.  "But the truth is, I did not dream this place up. It was God who gave me this dream. I just showed up and did my part, and God took care of the rest. The same as He did for many other people who together have brought this dream to a reality.  These people are founders as well!"
Vicky found faith.  Debbie found love.  Ron found a church.  Bonnie found grace.  Cindy found community.  Jorene found home.  Catherine found compassion.  George found a team.  Tommy found his youth.  Lynne found hope.  Sandee found family.  Lorna found fulfillment.  Sheril found blessings.  Tonja found engagement.  Julie found integrity.  Angie found acceptance.  Lyn found atmosphere.  Tracy found impact.  Brittany found warmth.
Taste Project invites you to become a founder too!  You can help begin to serve the next 50,000 people at Taste Community Restaurant.
Sign Up to Volunteer      Join our Monthly Support Team
Taste Community Restaurant is the first project of the Taste Project organization designed to help feed, educate, and serve Tarrant County's food insecure population, a total of 16.6 percent of Tarrant County's overall community (Feeding America).
Taste's solution is a fresh and healthy pay-what-you-can restaurant where everyone in the community, regardless of financial means, can enjoy a healthy, high quality meal, made from seasonal ingredients from the surrounding area. The menu has no prices. Guests are asked to:
Pay what you can afford;
Pay what you would typically pay; or
Pay what you would typically pay, plus a little extra to help a neighbor in need.
Taste Project encourages all Fort Worth and surrounding area residents to come and eat, volunteer, and give.  Because together we can make a difference.  Breakfast and lunch are served Tuesday thru Friday from 7am – 2pm; and brunch is served Saturday and Sunday from 10am – 2pm.
Taste Community Restaurant
1200 South Main Street
Fort Worth, Texas 76104
Open for Breakfast and Lunch: Tuesday – Friday (7:00am – 2:00pm)
Open for Brunch: Saturday and Sunday (10:00am – 2:00pm)
(Closed on Mondays)
About Taste Project
Taste Project is a 501(c)3 non-profit established to feed, educate, and serve our community so they may "…taste and see the Lord is good." Psalm 34:8.  We believe everyone should have access to healthy nutritional food. Our vision is to see our community become the solution to the challenges our community faces as it relates to hunger.  Our first project, Taste Community Restaurant at 1200 South Main Street in Fort Worth, focuses on healthy, quality meals made from fresh ingredients. Our menu has no prices. This is a give and take concept. We ask guests to do one of the following: 1) pay what you can afford, 2) pay what you would typically pay, or 3) pay what you would typically pay, plus a little extra.  To learn more, visit us at www.tasteproject.org or find us on Facebook.
###