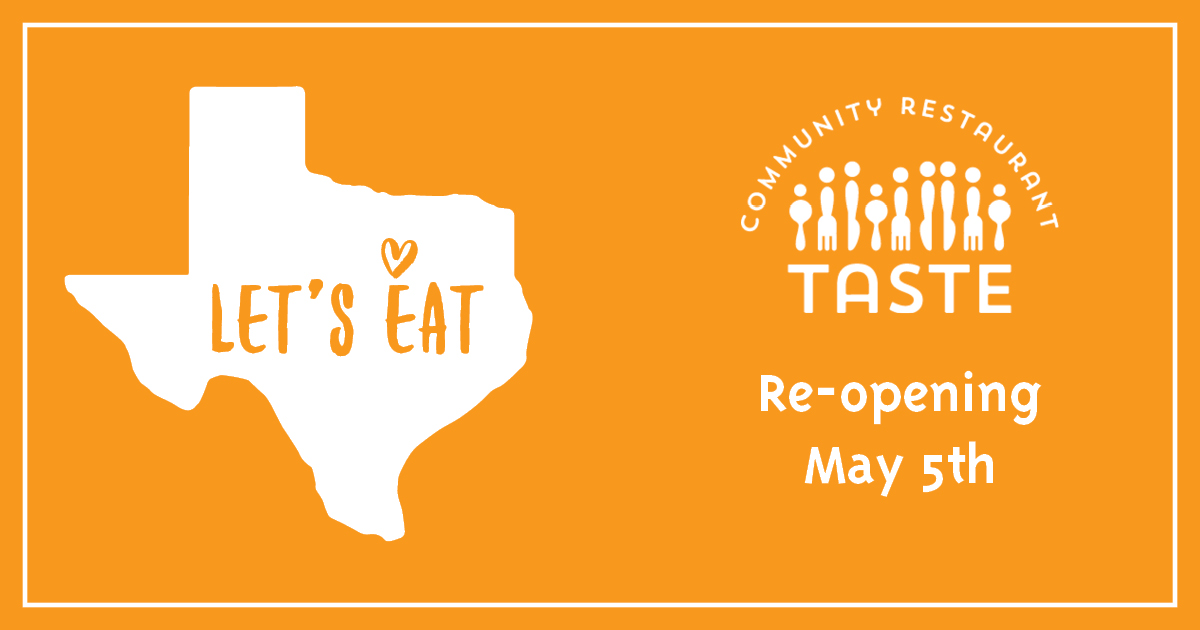 We miss you! Fort Worth is an incredible community of people. And we miss bringing everyone together at Taste Community Restaurant.
It has been 45 days since we have seen many of our Taste Buds in person. But all of you have risen to the occasion to ensure we can meet the needs of our community. Whether it was staying socially distant to ensure you are healthy and ready to serve when the time came, giving online to ensure those in need can continue to access healthy and nutritious food through our pickup service, or purchasing a meal token as a pledge to return when it is safe, thank you for your sacrifice and support!
It is time to start connecting again…
We are designed to be in relationship, not isolation. "For some people, a lack of social connectedness feels as impactful as not eating," says Joshua Morganstein, a psychiatrist and disaster mental health expert at the Uniformed Services University in Bethesda, MD.
Taste Community Restaurant was created for community.
We are following the federal, state and local guidelines to help ensure your safety. Our volunteers will be in masks, each will complete a daily self-health screening, and every volunteer will have their temperature checked at the start of every shift. In addition, we will continue to meet our local health department standards for safety and sanitation.
So, let's eat, let's connect, and let's lean on one another as we safely come back together.
If you need to connect, join us for our dine-in lunch!
If you need to connect, talk, and just feel loved, make a reservation and join us for lunch! Starting Tuesday, May 5th, Taste Community Restaurant will reopen it's dining room at 25% occupancy for lunch reservations only.
If you simply want to say hello, use our new to-go service!
If you simply want to support our team in action, place your order to-go online and say hello at pick-up! Starting Tuesday May 5th, you can order online using our new online ordering system.
Everyone needs to connect. And no matter what method you choose, we want to connect with you! Let's eat!!!
About Taste Project
Taste Project is a 501(c)3 non-profit established to feed, educate, and serve our community so they may "…taste and see the Lord is good." Psalm 34:8.  We believe everyone should have access to healthy nutritional food. Our vision is to see our community become the solution to the challenges our community faces as it relates to hunger.  Our first project, Taste Community Restaurant at 1200 South Main Street in Fort Worth, focuses on healthy, quality meals made from fresh ingredients. Our menu has no prices. This is a give and take concept. We ask guests to do one of the following: 1) pay what you can afford, 2) pay what you would typically pay, or 3) pay what you would typically pay, plus a little extra.  To learn more, visit us at www.tasteproject.org or find us on Facebook.
###