A Note from Chef Jeff Williams, Executive Director…
Christmas is one of my favorite times of year.  As a child, I looked forward to the Christmas lights most; and it always seemed as though the more lights a display had, the better it was.  Now, as an adult, and as a believer in Christ, I see light differently; but I see it with the same wonder and awe I did as a child.
At Taste, when the light of our diners, volunteers, staff, and donors come together, we magnify the light in our community.  The more light there is, the more we can see—and the more the darkness is dispelled.  Together, the work we do, is a bright light that gives glory to the Father. 
"…Let your light shine before others, so that they may see your good works and give glory to your Father who is in heaven" (Matthew 5:16, ESV).    
When the pandemic hit, and we were ordered to close our dining room, it became significantly more difficult to be the light in our community.  But darkness cannot expel even the smallest light.
We started with what we knew how to do: feed people.  And, without skipping a day, we immediately began serving to-go meals to those in need.  We served 3,473 to-go meals for free.
As soon as we could, we reopened the dining room for lunch; and launched a new pay-what-you-can online carryout program for those who were unable to dine with us.  Shortly thereafter, we were able to add breakfast and brunch hours to serve even more people.  And by mid-summer, we successfully launched our patio space with an additional 8 tables and 32 seats.
In total, we have served nearly 15,000 people during this health and economic crisis; 76% of whom were in need of our services.
We could not have continued to feed and meet the needs of our community without you.  And because of you, and in spite of all that is going on in our world, 'all is bright' at Taste Community Restaurant today.
2020 has been a difficult year for many of our neighbors.  Many have lost their jobs, lost businesses, and lost friends and family members because of the COVID-19 pandemic.  Yet many still need to see the light of our Father in heaven.  We can light up someone's day with something as simple as a meal, served with warmth and dignity at Taste Community Restaurant.
"Thank you so much for all you do for the Fort Worth community.  I've only been here once before, but next time I come in I will be employed and able to be a blessing to y'all like you were to me today." –Taste Community Restaurant Guest
We still need your help.  Will you continue to shine brightly with me through Taste Project?  Your financial gift will help to cover our daily shortfall as we launch into 2021 and ensure there is a place for people to come, step away from the darkness, and step into the light.
Thank you again for your support.  I look forward to an even brighter 2021!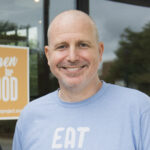 Sincerely,
Chef Jeff Williams
Executive Director
Taste Project and Taste Community Restaurant
Cover Photo by: Ross Reitzammer